Consumer Reports Does a Back Track on new iPad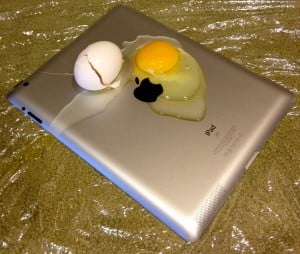 I almost expected the headline of this Consumer Reports piece to be, The New iPad is Hot, But Not Like You Think. But that would be too much irony for a Monday morning. No matter, Consumer Reports has back tracked a bit and said that those heat issues for the new iPad that got them all hot and bothered are, well, not such an issue after all. So much so that they now put the new iPad at the top of their Tablet choices.
Consumer Reports raised a few temperatures (and eyebrows) with its link baiting headline awhile back saying that the new iPad heated up to over 116 degrees. That prompted a huge rush on the sale of all kinds of thermometers and heat measuring devices as gadget blogs all over went into testing mode themselves. Not to mention a few fun-filled testings from others.
What's mot interesting in this latest report is that CR says that its reasoning that the higher temps for the new iPad (it is universally acknowledged that the new iPad can get warmer than its predecessors) comes somewhat from reading other reviews.
So much for making up your own mind.

As an Amazon Associate I earn from qualifying purchases.