Consumers Want More Autonomous Vehicles
Cisco recently released the results of the Cisco Customer Experience Report, which focused on automobile purchasing and the experience of driving. It was a global study that featured 1,500 respondents across 10 countries. Some of the results are not surprising: 83 percent start their purchasing research for a new vehicle online. Other results are surprising: 46 percent of respondents would freely allow their children to ride in an autonomous automobile.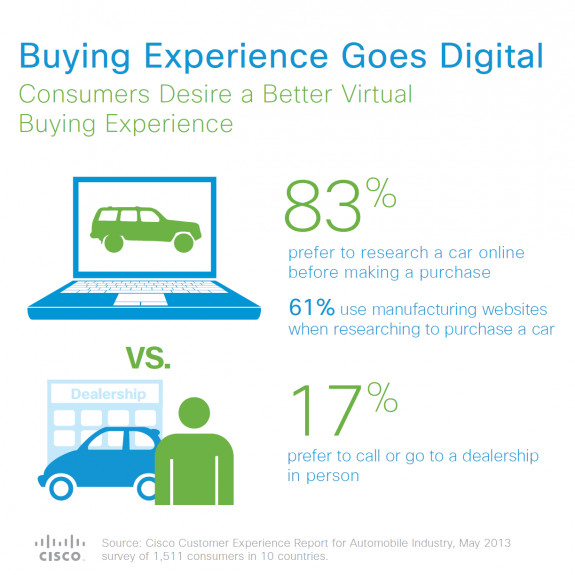 Consumers also indicated that they want an automated way to keep track of their automobiles. 62 percent of respondents wish they had a way to keep track operating costs of their vehicle and allow them to factor those expenses into their monthly budget. Many vehicles feature a Change Engine Oil light, and some even feature an actual oil life indicator and can schedule a maintenance visit for you. Ford's MyFord Touch system also can provide the driver with prices of gasoline at nearby stations. Verizon Wireless even offers a device by Delphi that can track vehicle maintenance and status.
Despite the "Big Brother" nature of vehicle monitoring, 74 percent of people surveyed would not mind having their driving habits monitored to help lower their insurance rates. Progressive currently offers a system called Snapshot that does just that. State Farm is also working on a similar system.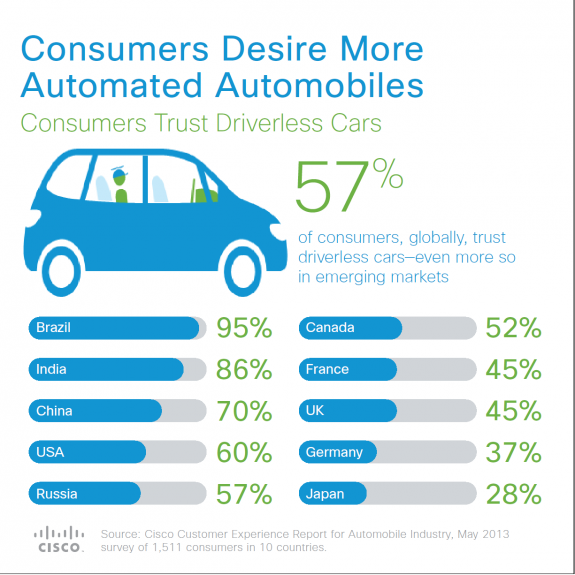 Drivers in emerging markets appear to be the most trustworthy of autonomous vehicles. The United States' respondents were 60 percent in favor. Japan is the least trusting of these systems.
Autonomous, self-driving cars are on the way. Many vehicles can be ordered with pre-collision intelligence, which basically monitors the car in front of the driver and will adjust the speed of the vehicle to avoid an accident. Lincoln's new MKZ can be ordered with adaptive cruise control, automatic lane correction, pre-collision intelligence and automatic parking. Self-driving technology is not that far away. Google and other companies have also been working on self-driving cars. With public support behind autonomous cars development will surely accelerate over the next few years.

As an Amazon Associate I earn from qualifying purchases.