Contest: Win $150 ScotteVest Gift Certificate (Black Friday Giveaway)
If you love to have all of your gadgets and gear with you wherever you are, then you usually need to commit to wearing a backpack or carrying a purse with you at all times, but not if you have a ScotteVest jacket or vest. These are the same clothing items Rolf Potts used to travel around the world without a bag and that we use to cover CES.
To celebrate Black Friday, ScotteVest has given us $300 in gift certificates to give away. We are giving away one $150 gift certificate on Notebooks.com and another $150 gift certificate on GottaBeMobile. So you have two chances to win and all you have to do is leave a comment in the post answering 2 simple questions. The winner will be chosen on Sunday November 28th so that he or she can use the gift certificate on the ScotteVest Cyber Monday sale!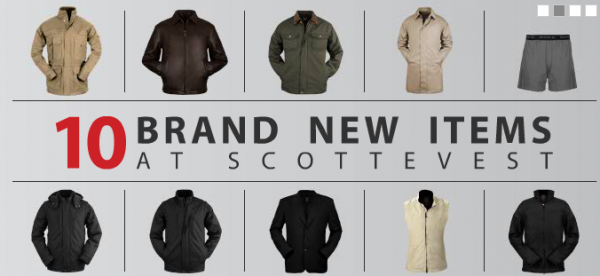 These comfortable jackets and vests, pants, hoodies, shirts and even boxers have specially designed pockets that are specifically designed to hold anything from a MacBook or an iPad to your smartphone, travel documents, baby formula, eyeglasses cleaningcloth, camera….the list goes on. They even have a collection of ScotteVest clothing designed just for women that has a more flattering cut.
Many of the ScotteVest jackets and vests have over 20 pockets that actually hold your gear comfortably without screaming "I have $2,00 worth of electronics in my pockets!" Best of all, there is a special weight management system so while you can tell you have gear with you it doesn't feel like it is throwing you off balance like it would if you put all this in a regular coat. Did I mention that these jackets are also really comfortable and don't look like you re-purposed your dad's fishing vest for the trip?
I wore the new ScotteVest Revolution Plus to Thanksgiving yesterday and already sold my Brother in Law on one for his upcoming trip as well as blew the minds of relatives on my father's side of the family with how much you can fit in the ScotteVest without looking like a walking electronics store.
Notebooks.com and GottaBeMobile ScotteVest Reviews:
How To Enter the Notebooks.com / GottaBeMobile ScotteVest Contest:
Leave a comment below telling us which ScotteVest item you would buy with the gift certificate,
and what you would put in the pockets.
The contest will run until Sunday November th at midnight PST  at which time we will pick a winner using Random.org to select a random number. The contest is open to U.S. residents over the age of 18. You can enter the contest once on Notebooks.com and once on GottaBeMobile.