Continuity & iCloud: Apple Finally Connects Devices But Will it Work?
The history of Apple, the Cloud and connecting between devices has never been blue skies. It's not even pretty, puffy clouds floating in a blue sky. Instead it's been a hazy history of fits and starts that have generated the cliché that Apple doesn't get the Cloud or interoperability between devices. After today's World Wide Developers Conference though it looks like Apple is doubling down on connecting multiple devices in a number of ways. If things work as advertised it will benefit consumers by allowing a more seamless integration between Apple devices that has been too long in coming.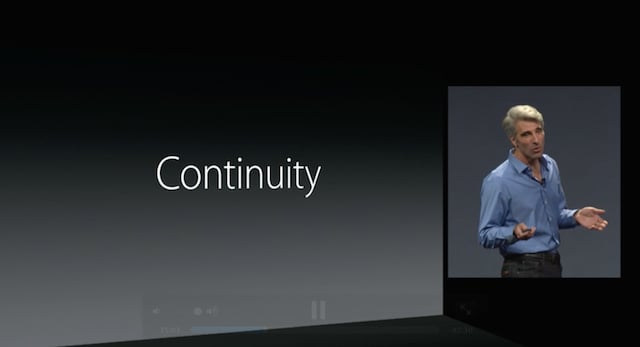 Apple calls a new key component of this foray into connectivity Continuity. In essence it is a way to move back and forth between devices while working on the same task. Continuity will be coming to iOS devices and OS X devices with the release of iOS 8 and OS X Yosemite this fall.
The examples Apple demonstrated on stage showed an email being started on an iOS device and then picked up and completed on a Mac; edits being made in Photos and then showing up in iPhoto (although that won't be available until next year); phone calls that come in on an iPhone that can be answered on a Mac or an iPad; and files being transferred between a Mac and an iOS device via Airdrop.
The key components of Continuity include Air Drop and Handoff. While details are still scarce at the moment, it looks like devices will connect via WiFi or a combination of WiFi and Bluetooth.
Airdrop has been a clever promise and a mystery since its inception. The clever promise has been the ability to move files between devices. But while that's been possible between two Macs or between two iOS devices, it was not possible, even with an AirDrop button appearing in the Share Sheet to do so between OS X and iOS. Now that's about to change and Apple promises we can AirDrop files between the two device categories to our heart's content.
The Handoff feature allows a user to start work on one device and then hand the work off to another Apple device. That sounds great for emails or perhaps a Pages document. But Apple also showed the HandOff feature working to show Caller ID on a Mac from a call coming in on an iPhone. Carrying that further, it is possible to answer the call on the Mac,  and also possible to initiate a call on a Mac that will go out through the iPhone. Using a combination of location awareness with application-state awareness Apple is also promising that regular SMS messages (as opposed to iMessages) can also be seen and interacted with across iOS and OS X devices.
This all sounds great and perhaps idyllic for those who have Macs and iOS devices. But the proof will be in the details once the new operating systems are released. Apple has had a bumpy ride into this kind of connectivity before. AirDrop has a history of being finicky. Messages has been a system that has been fraught with inconsistencies from the get go.
And then there's iCloud. Again, Apple hasn't had a great history with its Cloud service, but it looks like it is opening things up for what has been essentially been a closed system. With what it now calls iCloud Drive. Prior to these new announcements users have not been able to treat iCloud as a full document storage and syncing system. In fact a Mac user could only access files stored in iCloud by going through the web or the App that created the document. Now users will be able to store any files in iCloud Drive and access them from Apps in the same way they have been able to do with competitors like Dropbox and Google Drive. Files stored in iCloud Drive will appear in the Finder on Macs and the organizational structure of the iCloud Drive will be the same across devices.
Next up: Photos. Sharing photos is one of the key uses on mobile devices, and Apple has lagged behind its competitors in making this easy to do. Currently, users on iOS and on OS X can only share photos back and forth between devices using iCloud between devices via Photo Streams. As mentioned earlier, Apple showed edits being done in the Photos App for iOS and being shared back and forth almost instantaneously between an iPhone and an iPad. But note that the new iPhoto App for OS X Yosemite is not being released until "early next year." According to presenter Craig Federighi, a new version of iPhoto is being built from the ground up with iCloud in mind.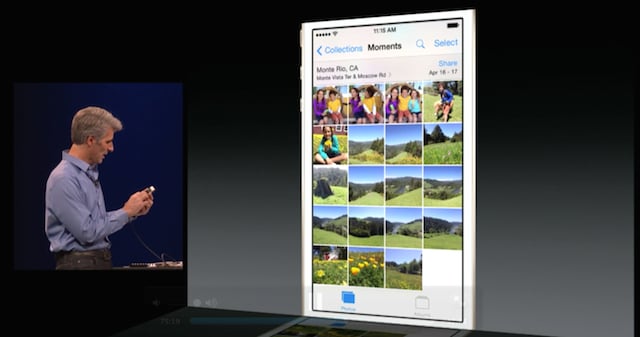 It sounds like Apple has recognized what it needs to do to catch up with other platforms and third party alternatives regarding sharing and managing photos, but given that it will be several months before the new iPhoto App for OS X Yosemite is available, it raises questions about Apple's historical cloud woes.
The announcements around Continuity and iCloud Drive for iOS and Mac OS X were big deals today. Partly because Apple is playing catchup on some of this, and partly because Apple is finally making the moves users have been seeking for quite some time. While the announcements hold lots of promise, indicating that Apple gets what it needs to do, Apple's historical Cloud and device connectivity rough patches will leave lots of users in a wait-and-see mode.