Convert your AC outlets to USB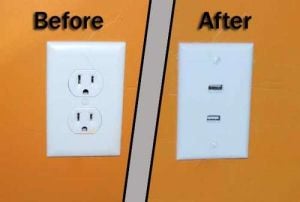 Ha! Love this project from Instructables to convert standard AC outlets to USB.
Your Iphone is dead, someone has run off with your Ipod wall charger, if only it where the future and all outlets were USB!

Not only will this add a permanent place to charge your USB devices. It will get your home ready for the future, when most appliances are USB. (I make no guarantees this will happen)
Pretty simple stuff if you know how to wire an outlet, which is not hard to learn. Yes, it's frivolous (and it really amounts to recessed USB adapters), but I'm sure I'm not the only gadget lover who dreams of easy access to USB power. Not sure how many appliances in the future will run on 5V USB though.