Cool Tool for the Toolbox: Foxit PDF Previewer
This absolutely goes into my Toolbox. If you receive pdfs via email and have been frustrated with the lack of being able to preview those attachments in Outlook 2007, you should give Foxit PDF Previewer a try.
Outlook 2007 contains a nifty preview feature that allows you to preview documents that have been sent as attachments either in an open email or the Outlook preview pane. But up until now there has been no preview available for pdfs, necessitating opening the document and calling up a third party application. For most folks that means opening up an Adobe product to take a look at the document. I gave up on Adobe Acrobat and have since switched to BlueBeam Software's PDF Revu for PDF creation and markup on a Tablet PC because it is far less of a drag on my system than Adobe, but that's another story.
Scott Hanselman today linked to a new tool created by Tim Heuer using Foxit Software's SDK (they also make a streamlined pdf viewer and pdf creator.) You can read all about the coding part of this on their sites, (and check out a nifty little video of how it works.) But what's exciting to me is that after installing the Foxit PDF Preview Handler, I can now have one button access to preview a pdf attachment in Outlook 2007 without Adobe bloat. Very cool and a great tool for the toolbox. Oh, and it is free!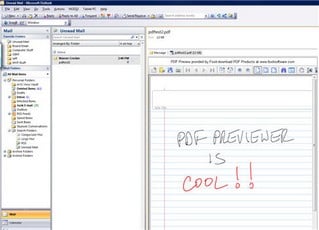 Be advised this works on Vista systems only at the moment.
Here's the link to the description and download.
UPDATE: By the way this also works very well in Explorer if you choose the preview pane. Vista only though. Thanks, Matt for that info.

As an Amazon Associate I earn from qualifying purchases.