Corning Unveils Antimicrobial Gorilla Glass
We all love touch screens. I don't think we all love the fact that touch screens can spread germs just like any surface we touch. That doesn't stop us from swiping and pinching, but it would be nice to pinch germs out of the picture. Corning, the maker of Gorilla Glass, the tough material for displays found on many mobile devices, is announcing a new antimicrobial Gorilla Glass at CES 2014. The claim is that the new innovation will inhibit the growth of algae, bacteria, mold and other microbes on mobile devices screens, and could help repel up to 99.9 percent of bacteria.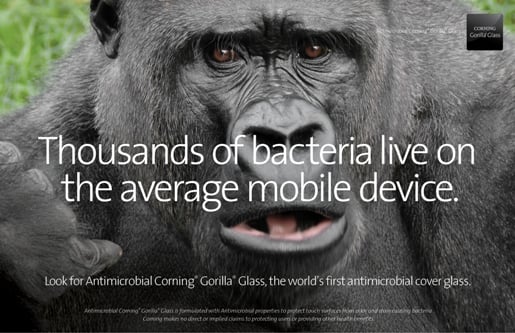 The secret here is the use of an antibacterial agent called ionic silver. Ionic silver is safe to use, at least that's what the EPA said when it verified Corning's claims last year. The bacteria fighting properties don't wear off. In fact, Corning claims the bacteria fighting quality will last for the life of the device. Corning was able to add this to its Gorilla Glass without affecting the durability of that popular product.
https://youtu.be/egU8GLD7MG8
Expect to see this being mentioned as a feature for smartphones, Tablets, and other touch based devices in the near future as tests are underway with several manufacturers. Here's a link to the press release.