Cortana Arrives: Windows 10's Best Feature is On Android
Microsoft is finally making good on its promise to deliver Windows 10's best feature to as many devices as it possibly can. Earlier this week the company formally unveiled Cortana, a standalone Android app that lets Windows 10 users take Microsoft's personal assistant with them wherever they go.
The company unveiled what it's calling the Android Public Beta yesterday on its Windows Blog, months after it first said it was going to and weeks after the free Windows 10 upgrade finally started rolling out to users. In Windows 10, Cortana sits on the Taskbar, assisting with appointment creation, calendar management, searches, package tracking and just about anything else they need. The personal assist is best described as Apple's Siri and Google Now rolled into one. She analyzes email, calendar appointments and more to learn things so that she can be helpful. For example, she tells users when they should leave if they'd like to make an appointment based on real-time traffic conditions. The personal assistant began life as a feature in Microsoft's Windows Phone operating system.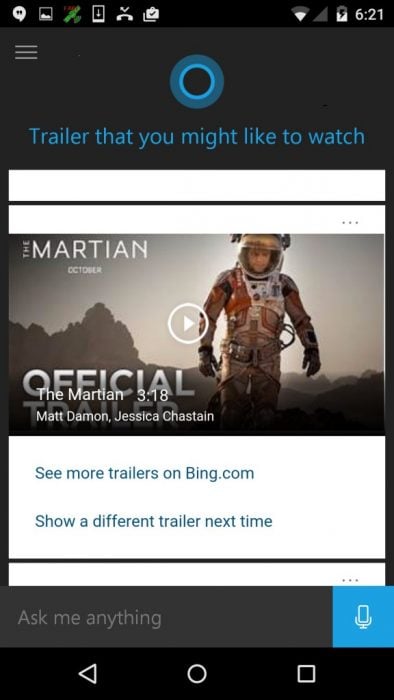 The Cortana Android Public beta is available now in the Google Play Store. To participate, users have to agree to the terms of the beta process here. Only then do they get a link to the app itself. Cortana isn't freely available in the Google Play Store to everyone because it's still very much in testing.
Microsoft said that it wanted to bring Cortana to iPhone and Android so that users could have the feature anywhere they needed. Cortana may have begun life as a Windows Phone feature, but users are more likely to have an iPhone or Android device in their pocket right now. Cortana is built on Bing, Microsoft's search engine.
Read: How to Use Hey Cortana with Windows 10
On Windows Phone and Windows, Cortana is built-in. It's because of this that she can always listen for commands and control settings. Cortana for Android is just a free app that users add to their phone. Despite this, many of her features from Microsoft's platforms are intact. Reminders, regular searches, packaging tracking, flight tracking and tasks are all included in Cortana for Android. Cortana for Android can't open individual apps. Any interests and information users shared with Cortana on their Windows 10 PC, is available in the app too.
Cortana for Android can't always listen for a command, but is readily accessible thanks to the open nature of Android. Users can ditch Google Now and have Cortana surface when they hold their finger down on their device's Home button.
For now, Cortana for Android is only available in the United States. Microsoft has slowly worked on internationalizing the Windows 10 version of Cortana all year, so that limited availability should change rapidly. Strangely, Microsoft didn't provide any more details about the Cortana app coming to iPhone and iPad besides confirming that it's still something its working on.
Cortana is a large piece of Microsoft's plan to dethrone Google and improve the perception of Windows. If the company can make Cortana essential, it stands a better chance of competing with Google in search. After all, if searching information instantly with voice is really convenient, users won't ever have to manually search anything again. Cortana is only available on Windows on notebooks, desktops and 2-in-1s. Users who really want to get the most out of the personal assistant will upgrade to Windows 10 and stick with it.
Microsoft still has a few more pieces it needs to get into place before it can declare Cortana successfully rolled out. Phones running Windows 10 Mobile – thus the superior version of Cortana – won't arrive until early fall. Cortana is coming to Microsoft Xbox One entertainment console too, but not until November.