Cortana Windows Phone Ad Shows Everything Siri & the iPhone Can't Do
It's been a longtime since any smartphone running Microsoft's Windows Phone operating system could be considered a legitimate iPhone 5s alternative. With Windows Phone 8.1 Microsoft smartly added a ton of features and now it's showing one of the most important ones off in the new Siri vs. Cortana ad.
In the commercial Microsoft pits an iPhone 5s against the Lumia 635, a mid-range Nokia device that just launched on T-Mobile a few weeks ago. Unlike most of the other Windows Phones being sold in the United States, the Lumia 635 includes Windows Phone 8.1, the latest upgrade to Windows Phone that Microsoft showed off this past April.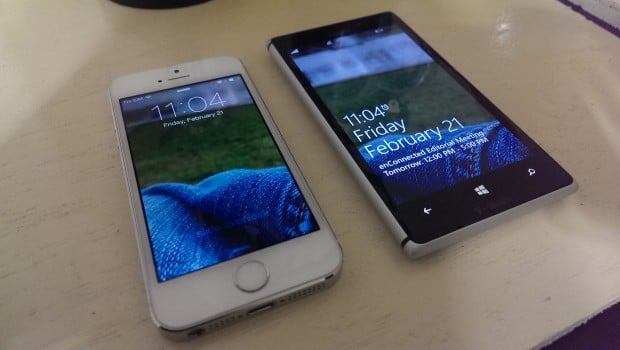 The ad is all about celebrating the features that Windows Phone's Cortana voice assistant has but the iPhone doesn't. The Siri vs. Cortana ad begins with an unseen person holding down the Windows button on the Lumia 635. He tells Cortana to remind him to wish his wife a happy anniversary the next time he calls. Cortana, who has already established who his wife is, (Caroline) confirms the reminder. Siri kindly informs watchers that she can't do that.
The unseen person then asks Cortana to remind him to pick up roses the next time he's near any florist. Cortana once again confirms the command while Siri on the iPhone 5s confirms that she "can't do that either." The ad closes with Cortana reminding the user in question to leave for a specific restaurant immediately or he could be late.
https://www.youtube.com/watch?v=w0pjD4qpIpg
The commercial is only 30 seconds, but it could be effective. Unlike advertisements for somewhat gimmicky features – mainly the Kids' Corner area or the Lumia 1020's 41 megapixel camera – this ad effectively communicates why users should purchase a Windows Phone.
The iPhone's Siri personal assistant is passive for the most part. Before the iPhone shows users information through Siri, the user has to ask for it. For example, "How long would it take to get to Bold Spoon" would be the command required to get the same real-time traffic information on the iPhone. Cortana, is both active and passive. Users can ask her questions just like they can with Siri, however Cortana also checks email, monitors appointments and asks questions about different locations and people. Users can remove their data at any time, but the point is to make Cortana work without a lot of setup.
Cortana is always running in the background too. That's how the personal assistant knows when that Lumia 635 owner in the ad is talking to his wife or when he's close to a flower shop. In that way, Cortana is also like Android's Google Now real time search engine. The difference is that Google Now, has no personality like Cortana or even Siri.
Using Siri to poke fun at an Apple product isn't entirely unheard of. In fact, Microsoft did the same thing last year. In that advertisement Microsoft compared the iPad to a tablet running its Windows operating system.  There's been no indication that ad resonated with potential iPad buyers. It was also strange because Cortana isn't available on Microsoft's Windows operating system.
Unfortunately, upgrading to Windows Phone 8.1 is the only way owners of older Windows Phone devices can get Cortana. The voice assistant isn't a standalone app, instead it's baked into the operating system at nearly every level. All users with devices running Windows Phone 8 should get Windows Phone 8.1 as a free download. How long that takes is up to the individual carriers. T-Mobile has confirmed that Windows Phone 8.1 will go out to device owners on its network sometime this summer. AT&T began rolling out Windows Phone 8.1 last week with an update to the Lumia 1520 phablet.

As an Amazon Associate I earn from qualifying purchases.