Could the PsiXpda be the "ultimate pocket computer"?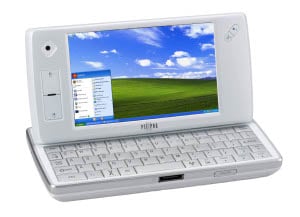 jkOnTheRun has the scoop on a new UMPC called the PsiXpda. James has seen a demo of it over Skype. He's calling it a "clamshell" device, but compares it to the HTC Shift which is a tilt slider. Not a whole lot of images to judge by, but from the one supplied, I'd say it is the latter.
The device features an Intel Atom Z510 1.1GHz processor, 1GB of memory, 16GB SSD, 5″ 800×480 touchscreen with trackpad and mouse buttons in the bezel, and a 64-key backlit keyboard. Includes a microSD slot for extra storage and for peripherals, one full USB port and a miniUSB port. Wireless includes Bluetooth 2.0, 802.11 b/g, and 3G options. OS is Windows XP Home.
Quite an attractive device, but is it, as they claim, the "ultimate pocket computer"? I don't know, but I know it's a bit too large for my pocket. Also a tad heavy on the wallet at £500 UK (~US$830), though I don't think that's unreasonable for what it offers. If anything, that name is what I'd call unreasonable. A prefix followed by individually pronounced letters? Doesn't exactly roll off the tongue.
Update: Thanks to Sascha for pointing out the "ultimate pocket computer" has been previously revealed as the Eking S515. It was previously reviewed by Chippy at UMPCPortal who has since posted a comparison. Clearly they're rebrands of the same unit, no doubt from an original design manufacturer. Also clearly a tilt slider.
Update 2: A comments at jkOntheRun has further identified the device as a rebranded Sharp Willcom D4, making them the ODM. Excellent review of it at Pocketables.