Could There Be Another Operating System for the UMPC?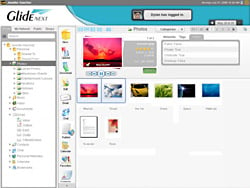 Looks like there might potentially be a choice of OS for the still fledgling UMPC, at least those with Intel processors. Intel is partnering with Transmedia to put their Glide OS on UMPCs. Apparently this was demoed at DigitalLife. The Glide OS 2.0 and they have multiple versions aimed at different markets. For the consumer there is Glide Next, for the student, Glide Campus, and Glide Business for the corporate market.
I have to admit ignorance when it comes to this OS, but apparently the current version can now be run on the web on both PCs and Macs and the company is coming out with a Linux version, aiming for third quarter next year. This evolved from their existing social networking software to inlcude Desktop functionality and they are aming to compete with Microsoft, Google, and Adobe. This will be interesting to watch. Read more here. Here's a link to Transmedia's site.

As an Amazon Associate I earn from qualifying purchases.