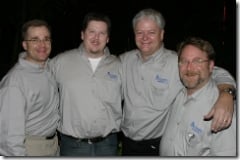 Covering CES was a bit different than previous years of covering it on our own or on behalf of other organizations. Video is a big part of what we do on GBM, and CES was going to be no different. It meant more equipment to haul: video cameras, microphones, tapes, batteries, flashes, etc. Add that to the list of stuff we normally carry, like Tablet PCs, cameras, phones, and backpacks, and the load begins to get heavy after a short while.
To cover CES properly, we split the team in to two groups: Team 1 consisted of Dennis, Warner, and Eddie. Eddie VanDerbeck served as our cameraman, and fit right into the team. Without him, our video coverage would have been much more difficult. Team 2 consisted of Rob, Matt, and Kathi ( my wife ).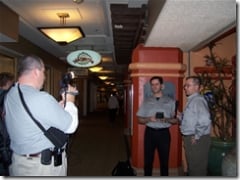 Tablet PC / UMPC wise, Warner had his Asus R2H, Matt had his M400, and I had my P1610. We all agreed that I had the most productive and mobile setup for covering CES. With a 6 hour battery, built-in keyboard, sd slot for my camera, and a pc card for EVDO, I was set. During the first day, Warner realized he left his Thinkoutside Keyboard at the hotel, and had to ink two posts – not good. For me, I carried my p1610 frequently at my side, and could set my tablet pc up on anything ( including the floor at times ) and begin posting as needed. When you cover CES, you need an integrated keyboard, WWAN support, a media slot for your camera, and something very light and portable.
During the night, we imported and produced video. Dennis brought out his X60 Tablet PC and we began chunking away. It was important to us to get key videos produced and published while we were at CES. Pictures are good, but you have to see the new stuff in action to appreciate it.
As productive as I was with posting, I was the least productive with email. As I've posted in the past, I dropped my Treo 700W, opting for seperate devices, and paid for that decision during CES. Dennis had his Motorola Q, Warner and Matt had the PPC 6700's. I could have checked email using my P1610, but staying on top of email easily is best handled with an integrated solution like a smartphone or pda phone.
We'll post more of our experiences later, but suffice it to say, we had the right equipment to get the job done.

As an Amazon Associate I earn from qualifying purchases.