Craig Pringle and Vista Touch on the Motion LE1600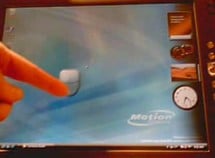 I, along with others, have been quite envious that Craig Pringle managed to get his hands on a Motion LE1600 that has touch capability. I've also been waiting anxiously for Craig to report in. And now he does. He's got a terrific blog post about his experiences along with a video that shows the Vista touch interface in action. Craig covers the pluses and the minuses of using touch, including the touch enhancements in the OS. Craig also had the opportunity at a TechEd conference to check out another Motion LE1600 that is dual mode touch screen and active digitizer. He reports that instead of a resistive touch screen this new model has a capacitive touch screen, and it senses when the pen is in range and turns off the touch screen. We need to see this aspect of Tablet PC and touch screen technology accelerated. Good work, Craig. Here's the link to the post. Watch the video here.

As an Amazon Associate I earn from qualifying purchases.