Craig Pringle Goes Hands on with the Toshiba M750 Tablet PC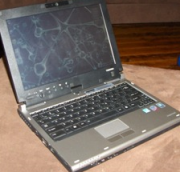 Craig Pringle got his hands on the Toshiba M750 Tablet PC and has written up a first look. From the sound of things, Toshiba has refreshed the M700 Tablet PC nicely here, especially if you are a power user and looking for a bit of oomph under the hood. Craig has put up specs and picks for those eager to drool. Note that the M750 has a dual mode operation featuring both an active digitizer and a resistive touch panel.

As an Amazon Associate I earn from qualifying purchases.