Crazy Taxi for iPhone and iPad Launching Soon
Crazy Taxi, one of my favorite games in my youth, will be heading to the iPhone and iPad at some point this month though SEGA remains coy on all of the launch details.
In a blog post, the company confirmed the launch of Crazy Taxi for the iPhone and iPad as well as the iPod Touch which will bring the popular driving game to all of Apple's mobile devices.
Read: 10 Classic Games The iPad Needs.
A release date and pricing weren't announced but the game is expect to arrive on the App Store at some point this month. The company posted a trailer for the game which can be seen below.
The trailer doesn't reveal much but it does feature a song by The Offspring, who was heavily featured in the previous versions of the game, as well as the familiar announcer, a voice that anyone who played the game will recognize.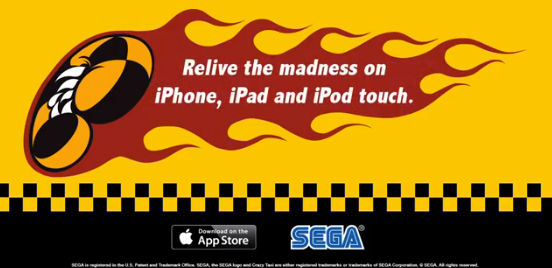 As someone who played the previous game, this is a dream come true. I can recall countless hours spent playing this game in the arcades as well as at home on my Dreamcast. While the concept of the game is simple, drive people from point A to point B, it's extremely fun driving absurdly fast throughout the city to try and beat the times and previous high scores.
The graphics, at least from the trailer, appear to be reminiscent of the original and it looks like it will have the same or similar soundtrack on board as well which means lots of The Offspring and Bad Religion.
One thing I am a bit skeptical of is how the controls will work. If you're ever played Crazy Taxi, you know that it takes precision sliding, turning and overall driving in order to rack up high scores. It wasn't easy using a remote and using touch controls might be extremely difficult.
Still, it's going to be hard for me to pass over this game when it arrives. Let's just hope that SEGA does the game justice for iPhone and iPad.
No word yet on a version for Android though we imagine one is likely in the works.

As an Amazon Associate I earn from qualifying purchases.