Create a Recovery Drive on Microsoft Surface and Reclaim Disk Space
The Microsoft Surface 2 and Surface Pro 2 each come in different storage capacities. The Surface 2 can be purchased as a 32GB or 64GB model. The Surface Pro 2 can be purchased in sizes ranging from 64GB to 512GB. Of course you pay more the more storage you desire. One of the many things that users should know about Surface computers is that the size advertised is not the free space you'll find when you first boot up your system. In the case of the 32GB Surface 2 you'll find approximately 18GB of free storage.
Microsoft lists a handy chart of what is available here. The Windows 8.1 operating system and apps that Microsoft includes take up the majority of the remainder. But a portion of the Flash storage is also taken up by a recovery partition. This exists in case you run into a problem and allows you to restore your Surface from scratch. But you can create external recovery media and tuck it away safely and delete the recovery partition if you really need that extra disk space locally.
Keep in mind that you also have two other storage options on your Surface RT. You can add a SD card to store media and other content. You can also avail yourself of Microsoft's Cloud system, Skydrive. Skydrive is integrated nicely with the operating system and is a great place to store your documents, data, and pictures freeing up local storage for apps, which must be installed locally.
If you're a gamer and opted for a Surface with a smaller storage capacity, you'll find that games like the newly released Asphalt 8 will quickly eat up the remaining storage on your 32GB Surface 2.
So here are instructions for how to create a Recovery Drive and delete the Recovery partition on your Surface device. Keep in mind, the Recovery partition is there for a reason. If things go wrong on your Surface, you might need to wipe the slate clean and start over. If you do decide to delete the Recovery partition to reclaim some local storage, make sure you save the Recovery USB you make in a safe place.
First, you'll need a USB thumb drive. For the Surface 2 the recovery partition takes up about 3.2GB. For the Surface Pro 2 it's about 7GB. (That's also how much space you'll reclaim on each if you delete the Recovery partition once you're done.) Know that anything else stored on the drive will be erased as part of the process. It's also a good idea to not put anything else on the USB stick after you're done.
Before you start Microsoft recommends that you change your settings so that your Surface will stay awake for the duration of the process. It normally takes about 15 minutes or so. As a rule of thumb, set your sleep settings to 20 minutes. It is also recommended that you have your Surface plugged in. To change those settings swipe in from the right to bring in the Charms Menu. Type in sleep. Then choose Power and sleep settings. 
Since your Surface is plugged in, adjust the time in the drop down menu When plugged in, turn off after
After plugging in your USB stick, there are multiple ways to get to the built in recovery tool. The easiest is to simply swipe in from the right to access the Charm Menu, select Search, then type in recovery.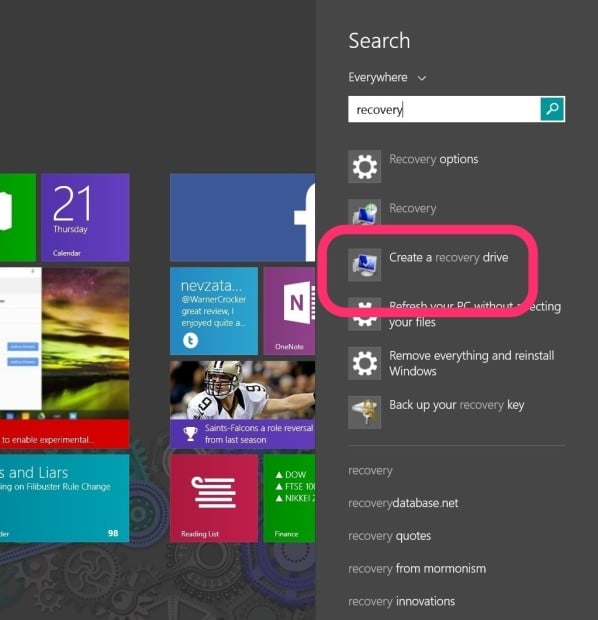 In the search results you'll see all of the recovery options available. Select Create a recovery drive. You'll get a pop-up that asks if you want to allow the following program to make changes. Tap Yes.
Select Copy the recovery partition from the PC to the recovery drive and then select Next. The next screen you see will tell you how much space you need on the USB stick. In the case of the Surface 2 it is 4GB. In the case of the Surface Pro 2, I believe it is 8GB, but I don't have one of those devices available to verify that. If you don't have enough, you'll need a larger USB stick. You can cancel here or move on by typing Next if you've got enough space on the USB stick.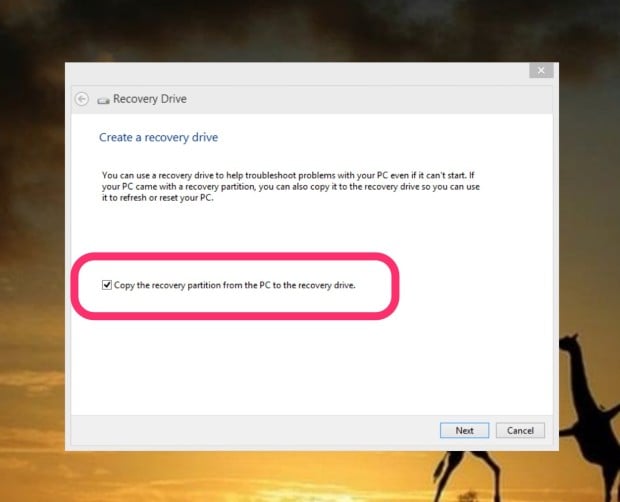 At the next screen Select Create. The process is off and running.
Once it is complete you'll have the option to Delete the recovery partition. To do so, select Delete. Once the removal is complete, select Finish. 
Again, once you remove your USB stick, store it in a safe place. Especially if you've deleted the Recovery Partition from your Surface.