Creating Art with a Tablet PC
Roy Blumenthal is a Tablet PC artist that I follow. I really enjoy a lot of his stuff. He's recently put up a post showing his rig for making art with a convertible Tablet PC, that includes an easel that he's configured to give him access to both the Tablet screen and also a keyboard an mouse. He's using ArtRage and finds that the keyboard shortcuts are a necessary part of his kit. He's also modified his easel so he can fold it up an go mobile.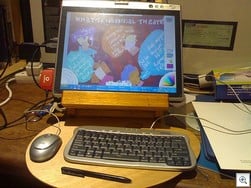 Check it out more pictures here. By the way, in Roy's post, he links to the ArtRage Forums. Some very interesting artwork (some with mature themes) and info there.

This article may contain affiliate links. Click here for more details.