Creative Labs Sound Blaster Roar 2 Speaker Review
Portable Bluetooth speakers are getting increasingly more popular these days, and are sold by just about everyone. With so many choices it's hard to find a great Bluetooth speaker, but the Creative Labs Sound Blaster Roar 2 may be the best one yet. It's loud, crisp and clear, offers plenty of bass, and has more features than almost any Bluetooth speaker I've ever owned. So many in fact, it's in a league of its own. This is our Sound Blaster Roar 2 review.
There are multiple Bluetooth speakers available for around $100-$200, making it hard to find one that stands out, but that's exactly what the Sound Blaster Roar 2 does. It's a speaker, it can charge your smartphone with the built-in battery, and it even has a micro-SD slot for those who'd rather not waste their monthly data streaming music over Spotify or Google Music.
Read: Best Bluetooth Speakers for iPhone in 2015
The new Roar 2 looks very similar to the original from last year, but that's a good thing. It has tons of loud and clear sound that comes from a relatively small space. It packs a lot of punch. This speaker features a beautiful aluminum design and easy to understand controls. Create Labs claims the Roar 2 is "Smaller, Lighter, & Sexier" than the original, and that's true. For those who've never owned the original, read on to see what makes this great, and quite possibly the best Bluetooth speaker I've used to date.
To start I'll mention my only two complaints about the Roar 2, which are the weight, and durability. That said, they aren't too big of a deal and completely a non-issue once buyers hear how good it sounds, and see how many options are packed inside of this device. It's a trade-off that many will be ok with. This is without a doubt one of the most well rounded and feature-packed Bluetooth speakers on the market. Especially when considering the price.
The Roar 2 is lighter than last years model, but still a hefty 2.2 lbs, making it one of the heavier speakers available. Most are trying to keep their bag light, which is hard when carrying a portable Bluetooth speaker. I've used a few that are heavier, so this is a toss up, but I'd love for it to be even lighter. At the same time, with weight comes good sound.
Another thing is durability. It's very solid and durable, feels extremely well made, and is wrapped in aluminum aside from the speaker grills. It just might not be very rugged if it's dropped. Many Bluetooth speakers are wrapped in rubber, or drop and water-resistant. This has none of those things, but it has plenty of other features that more than make up for those niche additions.
Sound Quality & Speakers
I've used a lot of Bluetooth speakers, and none have made me (and friends) say, "WOW" quite like the Roar 2 did. It's extremely clear, crisp, and sharp. Then gets louder and louder without any distortion. Then, hitting the Roar or Terra Bass mode on back makes it even better. It's so loud it shakes the table, all without distortion or nasty sound output. I was shocked. Yes the JAMBOX and many from Bose or dare I say it, Beats, are decent, but the Roar 2 is on another level.
It has three speakers, or drivers, which have all been moved to what I'd consider the top. Shown in the image above. The original had two up top, and another on the side. With this new placement sound is fuller, louder, and more directional. It can lay flat for great sound,  or sit up on the face for a more forward and directional sound output that's extremely loud and clear.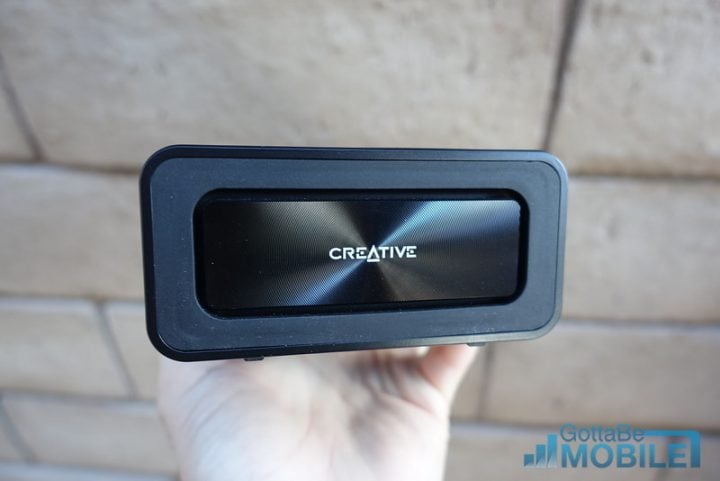 What makes the Roar 2 special is the fact that it's a lot more than just a regular Bluetooth speaker. Not only does it have some of the best sound of any speaker I've ever tried for under $200 ($149 actually), but it has a lot of additional functions and features that most don't. It has the usual auxiliary input (3.5mm audio in) along with Bluetooth audio, can charge your phone with a USB out port like some, and even NFC for easy pairing to wireless stream music over Bluetooth, but that's just the tip of the iceberg in terms of features.
It also sports USB and Micro-SD audio. Meaning owners can playback music from a USB device like a thumb drive, or from a micro-SD card. I have a 64GB micro-SD in mine, so I don't have to waste my Note 5 battery playing music over Bluetooth, and users won't drain their monthly data plan streaming Spotify, Apple Music, Google Music, or Pandora Radio. Just play back audio from USB or an SD card. Here's the full feature set:
USB Audio
Bluetooth
Aux-in
MicroSD playback
MicroUSB Charging
15v Charger
Audio Recording
Bedtime mode
ROAR mode
Terra bass mode
Device charging
NFC pairing
Then a few other noteworthy mentions are the bedtime mode, and the fact that it can record audio. If there's a USB or Micro-SD card inserted around back, users can use this as an audio recorder too. Pause music, record a guitar session, then go back to listening to tunes at full volume. Not to mention answering calls and using it as a speakerphone.
The Sound Blaster also has a switch on back called "ROAR mode" like last years model, which tweaks the EQ to allow for higher volume output, without distortion. Perfect for outdoor listening, a party, or loud environment. It's basically additional volume headroom for when you truly need it.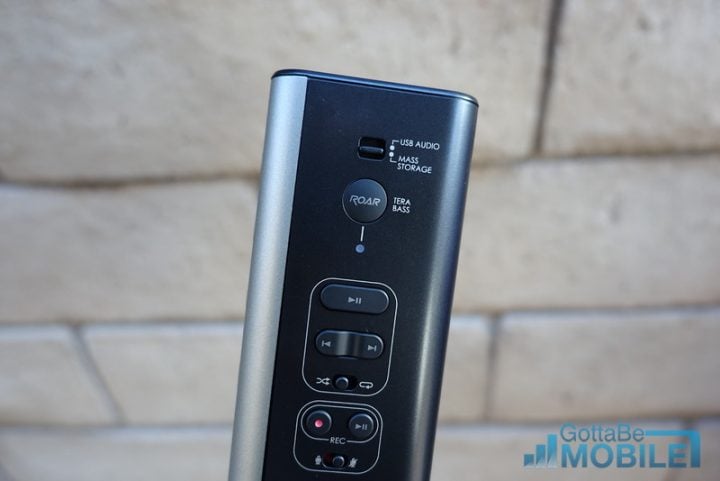 Creative didn't stop there, and users will get even more from the new Terra Base Mode. It's like "bass-boost" but actually worth using. Rather than cranking bass to 11 and having awful sound, Terra mode adds more base, rounds out the mids, and calms down the highs for an overall fuller, crisp, loud, yet bass-filled sound. It's extremely impressive, and delivers some surface-shaking bass. One click turns on Terra, another turn on Roar, for truly roaring audio.
Then, what's probably my favorite aspect aside from the sound, and the micro-SD support, and the battery life, is the subwoofers. Each side has a woofer, and they move with the base. It's a very visual experience that you can see, hear, and even feel.
Above is a terrible GIF taken with my Galaxy Note 5, showing the bass move the woofers placed on each side of the speaker. They bounce and shake with the bass, which just looks, sounds, and feels awesome. You can feel the airflow and bass coming out of this small Bluetooth do-it-all speaker.
Final Thoughts
At launch earlier this year the Roar 2 was $169, which is a bit steep, but absolutely worth it considering all this speaker has to offer. Now it can be found for $149, making it arguably the best Bluetooth speaker under $150.
The fact that it lasts for nearly 10 hours of bass-pounding crisp and clear music playback, can charge my smartphone with USB out, records audio, and plays back music from a micro-SD card makes it very versatile. All of that while also sounding really good, makes it's hard to recommend any other speaker.
It might not be rugged or waterproof, and not very "portable" but it's certainly one of the best Bluetooth speakers I've used to date. One I can recommend without hesitation. This is a perfect gift for the holiday season. Creative also sells a carry case for those interested. I'd recommend sitting it on a desk or in the living room, and enjoying the loud sound for years to come.