CrunchPad Feeling the Cost Crunch?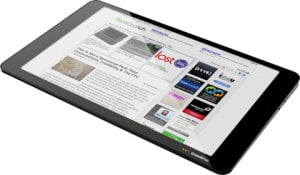 Silicon Alley Insider is reporting that Mike Arrington's CrunchPad tablet may have run into delays due to cost problems.
One story we heard from a few people on a recent trip to California is that the CrunchPad is supposedly being delayed — perhaps indefinitely — by increasing expenses.
Really? So that wacky price estimate of $300 for a 10″ slate tablet is hard to hit, huh? Wow, that's surprising. Oh, unless you follow slate Tablet PC prices, in which case you already knew what a pipe dream that was.
Sorry for the sarcasm, but companies very dedicated to slate tablets, such as Motion Computing and TabletKiosk, have been toiling on the technology for years. For Arrington to think he could roll in and make comparable gear for a lot less in a matter of months was, well, ridiculously arrogant. I really hope he can get a product off the ground, but as I mentioned way back when, "don't hold your breath". Guessing we're not getting that announcement we've been expecting for months. Sorry Warner.