CT Magazine of Germany reviews Core Duo Tablet PCs
A loyal GottaBeMobile.com reader, Lars Goldenbogen from Munich, Germany, has shared this comparative review of several popular Core Duo tablet PC's as published by CT Magazine of Germany. It is published in German and will be a great resource for our large and growing German readership. Included in the review are the Asus R1F, the Fujitsu T4215, HP tc4400, Lenovo X60, and the Toshiba M400 and M7. Thanks to Lars for the tip! In addition to the comparitave chart sent in by Lars, check out this other article in CT Magazine article on Tablet PCs.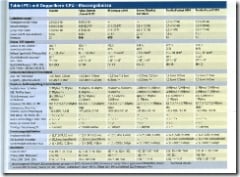 From Lars:
Hi Gottabemobile Team.
I am a constant reader of your blog here in Germany. Nice work, thanks very much.
I thought you might be interested in a comparison test between convertible tablets that is in the current issue of CT magazine (No. 4 2007), a very well reputed German computer magazine. They did a lot of interesting testing, unfortunately all in German.
They don't make rankings, but they liked the HP TC4400 best, mostly for overall good quality and design and good price. Lenovo X60 was best at display and batteryspan, but at much higher price. They also liked the Fujitsu Siemens 4215 which came in ""3rd" mostly because of the annoying grainy display.
On the Toshiba M400 they criticized the noise (a big issue in Germany), short battery span and bad ergonomics. Asus R1F and Toshiba M7 were criticized for smaller viewing angles, short battery span and on the Toshiba also noise.

As an Amazon Associate I earn from qualifying purchases.