Cubicle Warefare with iLaunch Thunder
Do you have a cube enemy that needs to have missiles sent their way? 
Brando is a company over in Hong Kong that markets and sells all sorts of zany gadgets, mostly USB related. They have come out with a rocket launcher called the iLaunch Thunder that's controlled via Bluetooth by any iOS device. They have apparently partnered up with Dream Cheeky to resell this cubicle weapon of mass destruction. The launcher came with instructions to visit Dream Cheeky to download the manual and a link that sends you to the app store to grab the control software, iLaunch Controller.
Well, I got my hands on one of these silly toys and I have to admit, it's fun for a little bit. I set mine up on the kitchen nook overlooking the den and proceeded to pelt my son while he was trying to play Xbox.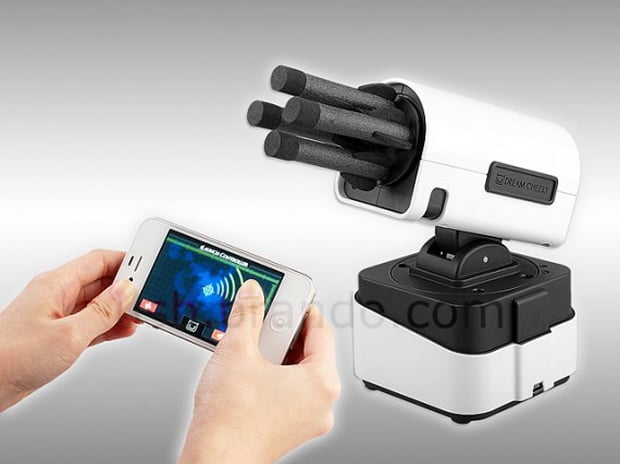 Here's a quick video of the iLaunch Controller software on the iPad. I didn't try it out on an iPhone, but the gsensor mode has to be much easier to control that it is with the iPad.
The iLaunch Thunder is a Missile Launcher made for iPod touch, iPhone, or iPad. 

Strike fear into the hearts of your fellow cube-dwellers with the iLaunch Thunder. Wirelessly controlled by your iPod touch, iPhone, or iPad, the iLaunch Thunder combines the best of Bluetooth technology and extreme innovation with a bit of insanity… 

With a 270°horizontal rotation, a vertical flexibility of more than 40° and a shooting distance of around 25 feet, the iLaunch Thunder will cover more than 1,400 square feet of your workspace. That definitely gives you more than enough coverage to declare some serious office warfare! 
I have to say that I probably wouldn't purchase this at $99 on my budget, but I can see those with a little more expendable coin grabbing one to create a war with cube mates. The construction of the launcher is all plastic, but fairly sturdy feeling. The software controller is decent and works just fine. My biggest complaint is the noise it makes. The motor that controls the angle and pitch is pretty loud and when the chamber is rotating, it sounds like it might break. Overall, I can only recommend this toy to someone with extra coin and time on their hands.

As an Amazon Associate I earn from qualifying purchases.