Custom and Homemade Ringtones to Come with Windows Phone 7 Mango Update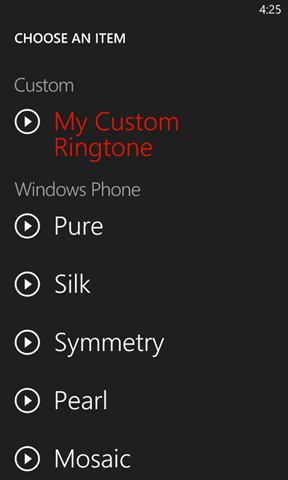 Windows Phone 7 owners will soon be able to get custom and homemade ringtones when the Mango software update lands. According to Microsoft, you'll be able to create 39-second ringtone files from any files, and the company is opening the possibility up to app developers to create features to allow users to easily create ringtones from their own recordings, and not just from song clips.
Microsoft will be allowing developers of apps that integrate sound recordings to enable a function that will allow users to 'save as ringtone,' opening up the doors on embarrassing and memorable sound bytes from your child's first words to an off-key American Idol-like night at the karaoke bar to be immortalized on a Windows Phone 7 device near you, though unfortunately the latter doesn't come with Simon Cowell's famously harsh commentary as a follow-up:
Well, imagine you've downloaded a voice recording app for capturing your baby's giggles or your best friend's comic outbursts. Come this fall, you might see a new Save as Ringtone option in the app that turns that sound into a unique ring.

That's just one possibility. In Mango, any Marketplace app that revolves around sound or music—karaoke apps, sound effect apps, DJ apps, music instrument apps—potentially become a source of new custom ringtones for your phone.
The company is releasing the following guidelines for ringtones:
39 seconds or shorter
smaller than 1 megabyte (MB)
saved in MP3 or WMA format
not copy-protected (i.e. DRM free)
Via: Windows Team Blog

As an Amazon Associate I earn from qualifying purchases.