Customers Go Online For Support When Companies Fail
Product Q&A site FixYa is where many owners of electronic devices end up when they have an issue with said device and want help fixing it. Recently the site shared some data with TechCrunch regarding which devices users felt had the most problems. This is all based on traffic and questions submitted on just one site, so it's not completely representative, though it does provide some fodder for discussion.
Of all the tablets on the list, the iPad had the fewest support questions, leading the site to call it the "least problematic," though that's a dubious conclusion to make. After all, Apple customers can get free customer service by going to any Apple store. Plus there are a ton of dedicated Apple and iPad sites out there, so even if they arrive by Googling their issues they likely end up on other sites first.
This isn't as true for Android devices. And I'm not at all surprised to see the Coby Kyros tablet gave users the most problems.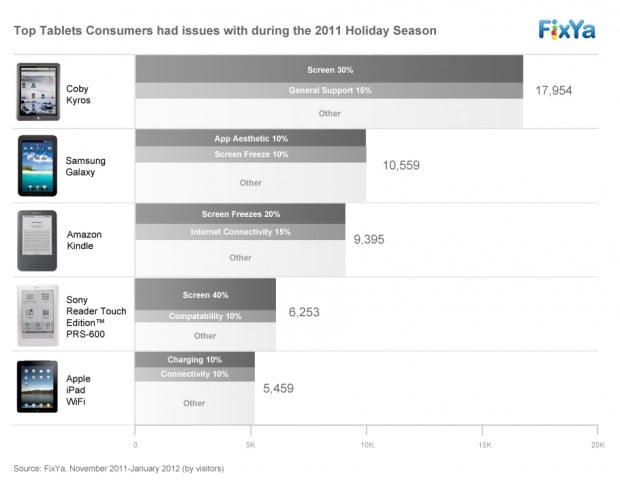 Sadly, the biggest issue with Android devices appears to be screen freeze. Manufacturers need to get on that fast.
What I do find surprising is that more users had support questions about the Amazon Kindle than the Sony eReader. Perhaps because more people received one as a gift? Because I find the Sony Reader much harder to work with, in general.
I'd be interested in seeing data from company customer support systems regarding the products that launched the most support calls. I'd also love to know what percentage of people turn to the Internet first to solve their support problems instead of the number on the box.