How to Customize iOS 7's New Notification Center
One of the big new features in iOS 7 is the new Notification Center. Instead of just one view when you drag it down from the top, it now includes three different views that you can switch between using the tabs at the top, which consist of "Today," "All" and "Missed." Furthermore, you can also access Notification Center from the lock screen and even interact with notifications right on the lock screen itself.
The new Notification Center is quite the change from previous iOS versions, so it may come as a bit of a shock initially to a lot of users who update to iOS 7. However, you can customize it to fit your needs, and you can even disable a lot of the new Notification Center features if you liked the simple functionality of the old one.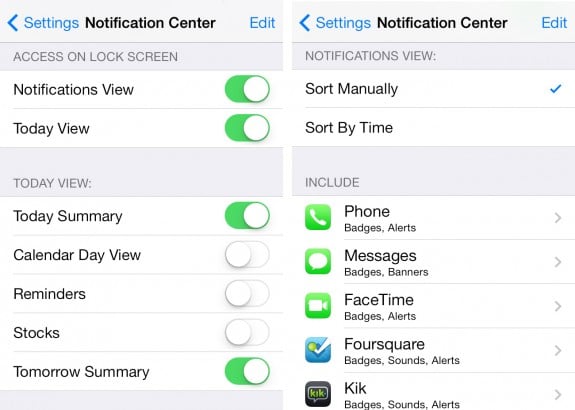 Customizing the Notification Center
To get to the settings and options for the Notification Center, open up the Settings app and navigate to Notification Center. From there, you have a bevy of toggle switches that you can take advantage of in order to make the Notification Center customized to your liking. Starting from the top, you can disable access to the Notification Center from the lock screen, either disabling the Notifications View, the Today View or both.
Below that are settings for the Today View. Here you can show exactly what you want to show in the Today View, including a summary of the current day, a calendar view of what your day looks like, reminders, stocks, and a summary of tomorrow.
As for the Notifications View, this is pretty much similar to the old Notification Center, where you can choose what apps show up in Notification Center, and you can sort them manually or give them priority based on the time the notifications come in. There's an "Include" and "Do Not Include" on this page, the former which is a list of apps that will show up in Notification Center if any of those apps get notifications.
Tapping on one of those apps will give you options for just that app alone. You can choose what kind of alert you want to receive. A "Banner" is when you simply get the notification up toward the top of the screen and it will go away after a few seconds. An "Alert" is a pop-up notification that you have to take action on; these are better for those who absolutely don't want to miss a notification.
The "Badge App Icon" is the little red dot with a number inside of it that shows up in the top-right corner of an app icon, letting you know that there's a notification waiting for that app that needs action. If you want disable a certain app from showing up in the Notification Center, go back to the main "Notification Center" window and click on "Edit" in the top-right corner. Three horizontal lines will show up next to each item. Tapping and holding on that will allow you to drag items to and from the "Include" and "Do Not Include" sections. You can also drag around items to sort their order if you want them sorted manually.
Getting the Old Notification Center Back
The new Notification Center is very different, and some users may really miss the old look. While you won't get the exact look of the old Notification Center back, you can at least make it look like it. To make this happen, just turn off the "Today View," "Today Summary" and "Tomorrow Summary" on the main Notification Center settings page. This will put the Notification Center back to its bare essentials.
However, you won't be able to get the old Weather widget back in. Instead, the "Today View" provides a text-based version of the weather, but it's not all that great. Hopefully, once iOS 7 gets jailbroken, we'll be able to put a Weather widget back in there.

As an Amazon Associate I earn from qualifying purchases.