Cyber Monday 2013: Where to Look for the Best Tech Cyber Monday Deals
Cyber Monday deals will soon be here to replace the Black Friday sales that ran out of stock, and while there is not as much build up for Cyber Monday, there are many deals shaping up for Monday, and we are seeing some Cyber Monday 2013 deals start even earlier than normal.
If you are looking for the best Cyber Monday 2013 deals you will need to wait for Sunday and Monday, but you can at lease start planning which stores you will be checking and take stock of what you didn't get at Black Friday sales to plan out your purchases for Cyber Monday.
If you want to go big on Cyber Monday 2013 you will need to be ready to buy when the deals go live if you want in on biggest savings because these deals will go very fast. If possible add an item to your cart and then do your research to compare prices and read reviews, but keep in mind you will need to check out within about 15 minutes.
Here's a look at the Cyber Monday 2013 deals we know about and the stores you need to keep an eye on to find the best deals. Most of the Cyber Monday 2013 deals start around midnight on Sunday night, while some will start earlier in the day.
Walmart Cyber Monday 2013 Deals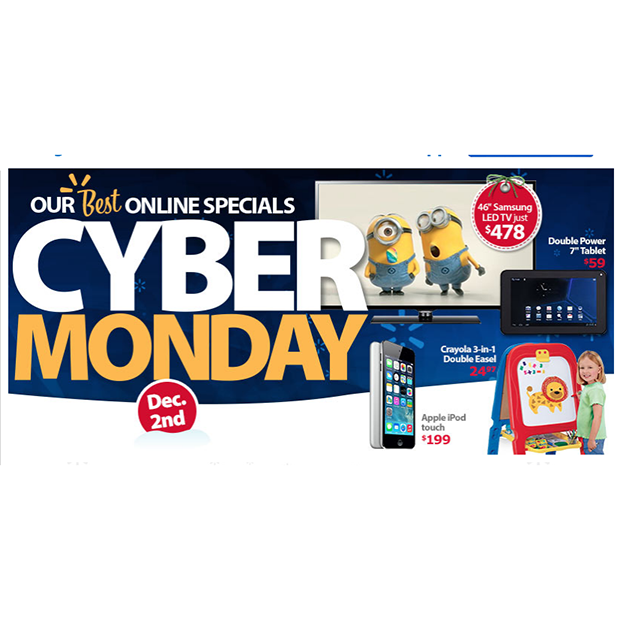 The Walmart Cyber Monday 2013 deals are mostly under wraps until after Black Friday ends, but we do know about two Walmart Cyber Monday tech deals worth looking at.
First off is a 46-inch Samsung LED HDTV for $478. There are no specifics on this HDTV yet, but at this price expect 180P, 120Hz and possibly some Smart TV features.
Next up is an iPod touch for $199. This may be a 16GB model that normally retails for $229, which means $30 in savings. The Apple Store offers a Black Friday deal of a $50 gift card which is a better deal.
It's not advertised, but there will be Walmart Cyber Monday Xbox One and PS4 deals, with consoles in stock for online sales on Monday December 2nd.
There is a 7-inch Double Power Android tablet that falls under our warning of avoiding cheap Android tablets. These are only a small number of the deals we will see. The Walmart Cyber Monday 2013 deals will run all week, starting Monday December 2nd.