Cyber Monday 2015 Sales Bring Great Microsoft Surface Deals
Cyber Monday 2015 shoppers looking to save some money on Microsoft's Surface family of Windows 2-in-1s and convertibles are in for a treat. Microsoft's retail and online stores have a few deals on the tablets that Microsoft thinks can replace a notebook PC. These Surface deals include free touch covers and some nice markdowns on the Surface Pro 3 to just $649.
Microsoft revealed its Cyber Monday 2015 deals just hours ago. The sales run until tomorrow, which is why there's a countdown clock atop everything on the site. Cyber Monday is for shoppers who decided to skip Black Friday deals in favor of shopping from the comfort of their own home online. It's not just the Surface, Microsoft has slashed the cost of much of its hardware. For example, the Xbox One is selling for $299 with a game and $60 in digital store credit.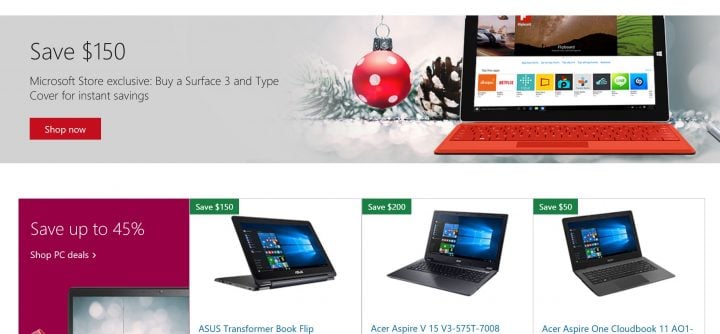 Read: Cyber Monday 2015 Sale Has Huge Savings on Xbox One
Mainly, Microsoft's Surface Cyber Monday 2015 deals focus on its last generation devices. That is to say that Microsoft has cut the cost of purchasing a Surface Pro 4 or the new Surface Book. Both of those devices arrived on store shelves this past October.
The Surface 3, which Microsoft launched last year, is the company's direct competitor to the iPad, only it is able to run both apps from the Windows Store and programs downloaded over the internet, like iTunes. Today only, the Surface 3 sells for $479. Normally, that price doesn't include the $129 Type Cover that Microsoft advertises along with the device. Today it does, giving Cyber Monday 2015 shoppers a combined $150 in savings.
Read: Microsoft Surface 3 Review
This is the first time in recent memory that Microsoft has offered the Surface Type Cover to Surface buyers at no additional charge. Originally, there was a bundle that included the cover, but Microsoft ditched that bundle with the Surface 2. The Free Type cover is for all Surface 3's regardless of storage size or wireless connectivity. Surface 3 buyers don't get a free Surface Pen like Surface Pro 3 and Surface Pro 4 buyers do.
The Cyber Monday 2015 sale doesn't include a free Surface Type Cover for any other device. Instead Surface Pro 3 buyers get some immediate price savings on the tablets themselves. They also get a free carry sleeve.
The Surface Pro 3 is $649 with an Intel Core i3 processor. The same device with 128GB of storage and instead of 64GB o storage is $699. This is a new configuration that wasn't available when the Surface Pro 3 went on sale in 2014. The Surface Pro 3 with Intel Core i5 processor and 128GB of storage is $799. A Surface Pro 3 with Intel Core i7 processor starts at $1,249.
Read: Microsoft Surface Pro 3 Review
The Surface 3 is still Microsoft's direct competitor to the Apple iPad and even the iPad Pro since it's designed for users looking to slim down their device portfolio and dump either their tablet or their notebook PC. That's the same market that the iPad Pro is designed to appeal to. Both need keyboard accessories to pull off the transition from tablet to notebook well, making the Surface 3 deal a smarter purchase than the iPad in a number of ways. Microsoft includes a year-long subscription to its Office 365 productivity apps with the Surface 3 already. The Surface 3 desktop dock is just $99 for today only.
Devices from Microsoft's hardware partners are also on sale. There's the Asus Transformer Book Flip for $199 and the Acer Aspire One Cloudbook 11 for $139.
All of these Microsoft Store Cyber Monday 2015 deals will disappear at midnight Pacific Time, giving potential buyers a limited window to take advantage of the savings. The Microsoft Store offers free shipping and free returns. Both the Surface 3 and Surface Pro 3 are showing shipping dates well ahead of Christmas.

As an Amazon Associate I earn from qualifying purchases.