Cygnett WorkMate Evolution Case for Samsung Galaxy S4 Drop Test
The Cygnett WorkMate Evolution case for the Samsung Galaxy S4 gives owners of the new handset a rugged protective case that they promise will keep the phone intact, even if the user drops it on hard pavement. They decided to prove their claim in a drop test video posted to YouTube, which we have below.
The case comes with three different materials to keep a phone safe. The three materials include a strong TPU inner chassis, a rubber shell and silicone inlay. There's a silicone pad on the back, with some stickiness to keep the phone and case from sliding around on slick surfaces. The Cygnett Workmate Evolution case offers a deep inset bezel around the screen. If a user drops the phone and it lands screen down, the glass won't impact the ground. The impact-absorbing corners keep the phone from breaking when it hits the ground. The case adds thickness and weight, but not too much. The internal lining of case has ridges to produce impact resistance.
Here's the video Cygnett released of their drop test, including a watermelon burst at the end for fun.
The video shows them dropping the case from different heights. They begin at three feet, the height of a baseball bat. Then they dropped it from a Kennards industrial lift with a platform from about six feet six inches high. As they point out, that's the height of Tom Brady, quarterback for the New England Patriots. In the last test they raise the lift to ten feet, the height of a basketball goal. The Samsung Galaxy S4 inside the Cygnett WorkMake Evolution case survived all three drops without a scratch, dent or crack.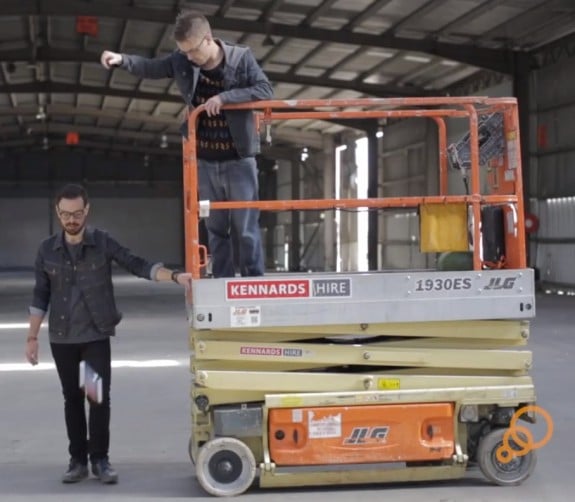 Samsung Galaxy S4 owners who need a rugged case can find the Cygnett WorkMate Evolution at the company's website, where it sells for $29.99. The case comes in four colors: black, grey, orange and bright blue. They also make cases with the same design quality and rugged protection for the Samsung Galaxy S2 and S3, iPhone 4, 4S and 5 and iPod Touch 5th generation. iPad mini owners can get one for ten dollars more.
We recently rounded up a host of Samsung Galaxy S4 cases. Readers can scan to find the best option for their needs.