Cypress working on hover for touchscreens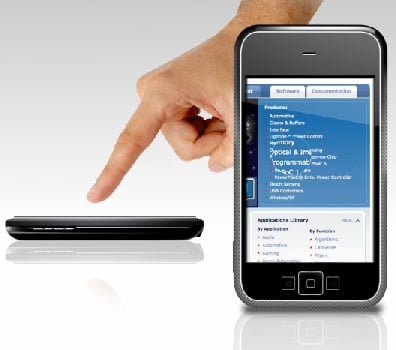 The one unassailable advantage of active digitizers may be in danger. Proximity sensing enables precise cursor control and hover with a pen and active digitizer. Well, Cypress Semiconductor claims they can do the same with a capacitive touchscreen.
Previously we've seen Cypress improve capacitive touchscreens by upping the finger recognition count. Their newly announced project demonstrates touchscreen control without touching the screen. The demo video shows the technology and how the proximity is detected, not a user interface, but the potential is promising.
Press release after the video. Hat tip to Slashgear.
Cypress's New Hover Detection for TrueTouch™ Touchscreen Solution Indicates Where a Finger Will Touch as It Approaches Screen

New Video Demonstrates How Feature Enables "Mouseover" Selection for Fingers To Change the Way Users Interact with Mobile Device Touchscreens

SAN JOSE, Calif., April 21, 2010 – Cypress Semiconductor Corp. (Nasdaq: CY) today announced support for hover detection for its capacitive touchscreen technology. The new feature, driven by Cypress's TrueTouch™, enables smart touchscreen solutions that anticipate the touch of a finger and enlarge content such as points on a map or the font of tiny website links to make them easier to find and select. Hover detection changes the fundamental navigation functions on mobile devices by emulating "mouseover," a feature well known in the personal computer segment for web navigation. The feature delivers easier, more accurate interface navigation for handsets, GPS systems and other mobile applications.

A video demonstration of the hover feature is available at www.cypress.com/go/hovervideo. The video includes footage of a TrueTouch touchscreen recognizing a user's finger as it approaches the touch sensor before the finger touches. A corresponding circle on the screen changes size to demonstrate how the application detects the user's finger as it hovers above the screen.

"Mobile phone manufacturers are looking for ways to differentiate their products, and features such as hover support and stylus recognition enable them to do just that," said Dhwani Vyas, vice president of the User Interface Business Unit at Cypress. "Delivering a mouseover-like capability to the mobile phone space shows that Cypress continues to focus on creative features aligned with market demand. With so much emphasis on web content to the mobile handset, innovative navigation techniques are necessary to bring a familiar web-browsing experience to the user. Our customers are excited about TrueTouch because its flexible architecture enables them to continuously create and deliver value-added features."

Cypress recently announced highly accurate passive stylus support for a tip as thin as 1 mm, allowing users additional levels of accuracy and control for text entry, keyboard, handwriting recognition and other productive functions for mobile applications. A video of Cypress's stylus support is available at www.cypress.com/go/stylusvideo.

Cypress's TrueTouch family includes single-touch, multitouch gesture and multitouch all-point offerings. Cypress was the first company to introduce multitouch all-point functionality, which can track an unlimited number of touches. This capability enables designers to create new usage models for products such as mobile handsets, portable media players (PMPs), GPS systems and other products, and has been in mass production since 2008. TrueTouch is the industry's most flexible touchscreen architecture, which allows designers to implement differentiated features and make last-minute design iterations without board changes.

Cypress's high performance TMA300 multitouch all-point family provides best-in-class scan times for true multifinger touch and superior signal-to-noise ratio for the most demanding touchscreen applications. Additional information about the TrueTouch solution is available at www.cypress.com/go/TrueTouch.

The flexible TrueTouch solution allows customers to rapidly develop leading-edge solutions without having to buy turnkey modules. They have a choice of using touch sensors (glass or film) and LCDs from preferred partners, and can develop innovative mechanical designs ranging from flat to curved surfaces of varying thickness. In addition, TrueTouch devices offer Cypress's legendary noise immunity with patented capacitive sensing technology that enables flawless operation in noisy RF and LCD environments.

Availability
Cypress is currently working with lead customers on hover support for the TrueTouch touchscreen solution. A hover support module is expected to be broadly available in the second quarter of 2010.

About Cypress
Cypress delivers high-performance, mixed-signal, programmable solutions that provide customers with rapid time-to-market and exceptional system value. Cypress offerings include the flagship PSoC® programmable system-on-chip families and derivatives such as PowerPSoC® solutions for high-voltage and LED lighting applications, CapSense® touch sensing and TrueTouch™ solutions for touchscreens. Cypress is the world leader in USB controllers, including the high-performance West Bridge® solution that enhances connectivity and performance in multimedia handsets. Cypress is also a leader in high-performance memories and programmable timing devices. Cypress serves numerous markets including consumer, mobile handsets, computation, data communications, automotive, industrial and military. Cypress trades on the Nasdaq Global Select Market under the ticker symbol CY. Visit Cypress online at www.cypress.com.