Dark Souls 3 Pre-Orders: What You Need to Know
Dark, difficult and exceptionally gorgeous. That's about as fair a description as anyone can offer up on Dark Souls 3, the upcoming action role-playing game coming to Sony's PS4, Microsoft's Xbox One and Steam very soon. Dark Souls 3 has a brooding and macabre narrative, but it's the game's degree of difficulty that early reviewers think people will appreciate most.
If you're thinking to yourself that the the game sounds familiar, that because there's already been one. It is available in FromSoftware's home country of Japan. The rest of the world was forced to wait. It's a phenomena not uncommon for games that might need translation or just a bit more incubation time to get ready for other countries. Dark Souls 3 launches across the globe on April 12th.
Read: Dark Souls 3 Release – What You Need to Know
That's not too long from now. Here's what you need to know about Dark Souls 3 pre-orders ahead of the game's release next week.
Dark Souls 3 Editions
The Dark Souls 3 release isn't the most complicated release we've ever seen. Missing are the extra things that can make pre-ordering or purchasing a game a nightmare. There aren't many pre-order extras scattered between different retail chains. Buyers aren't being teased with giveaways or promotions if they purchase a specific soft drink or beverage. That being said, some of the trappings of a typical AAA game release remain. There are a lot of editions to consider when making a Dark Souls 3 pre-order.
Everyone that places a pre-order or buys soon after release can expect a Dark Souls 3 Day One Edition. This special release only costs $59.99, but includes access to a starter strategy guide produced by Prima and access to the game's digital soundtrack.
Xbox One, PS4 and Steam users all have access to Dark Souls 3 Digital Deluxe Edition. This version of the game includes the two extra items from the base copy. They also include access to the game's Season Pass content. PS4 users get two special themes to use on their console's software too. Xbox One users that pre-order get access to the original Dark Souls. Directly through the PlayStation Store & Xbox Store, this version is $84.99. GameStop has its own version of this pack that comes complete with an eGuide for the game and the season pass content. It sells for $94.99.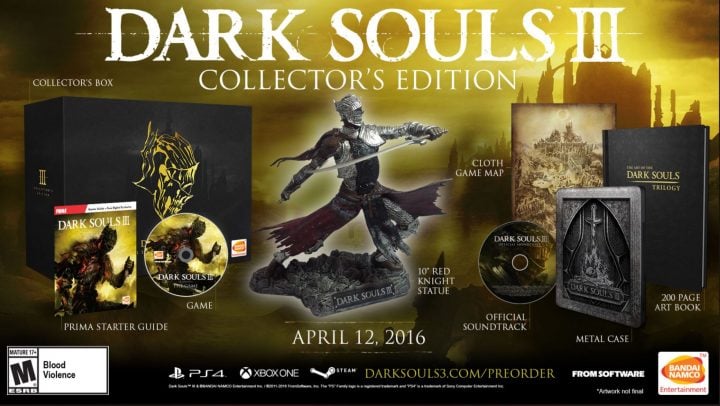 Dark Souls 3 Collector's Edition includes the Prima starter guide, the game itself, a 10-inch Red Knight Statue, a metal game case, an artbook from entire game trilogy, the soundtrack and a cloth map to navigate around the game world, without using the in-game map. This version is only available for Xbox One and PS4 owners in the United States, it seems. International audiences might still be able to find this version though. It doesn't include season pass content at all.
On its own, the Dark Souls 3 Season Pass costs $24.99.
Where to Place a Dark Souls 3 Pre-Order
Where you place your Dark Souls 3 pre-order isn't as important if you're looking for pre-order extras. Bandai Namco Entertainment and FromSoftware are taking it easy on buyers, letting them decide where to snatch up the game based on what their habits already are.
Amazon, GameStop and Best Buy have pre-orders open right now. Only GameStop is offering something for users that purchase the game only at their location. This special something is a Dark Souls 3 inspired key chain. To get this key chain you'll need to have signed up for the company's PowerUp Rewards program. There are no in-game rewards or add-ons.
Picking Up Dark Souls 3 Pre-Orders & Midnight Release Parties
Just because you can buy Dark Souls 3 any place without fear of losing out, doesn't mean you should buy anywhere, without some kind of care. That's especially true if you like to enjoy your games on the day that they arrive.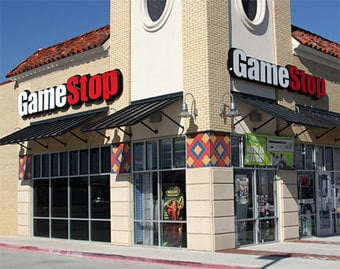 GameStop is the only retailer so far to confirm it'll hold a midnight release party for Dark Souls 3. Anyone who pre-orders there will be able to pick up their boxed copy of the game on April 12th at midnight. That's not true of other retailers, who'll offer pre-order pick-ups when they open the next day.
Digital copies of Dark Souls 3 will all unlock at midnight Eastern Standard Time in the United States on Xbox One. Buyers can actually begin downloading the files they need ahead of the game's launch right now. The same goes for Sony's PS4 video game console.
Dark Souls 3 Deals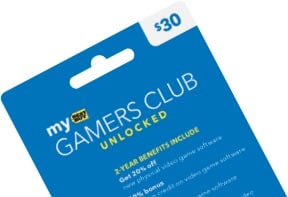 Per usual, there are a few Dark Souls 3 deals to go around. GameStop locations are boosting trade-in values by 20% when those putting credit towards a copy of the game their trade-in a game disc or accessory. Amazon Prime offers 20% off on all physical copies of games, when subscribers pre-order a game or purchase soon after release. Best Buy Gamer's Club Unlocked also hands out 20% discounts on physical games.
Own a copy of a previous Dark Souls game and Steam will give you a $5 discount
Good luck with your Dark Souls 3 pre-order.

As an Amazon Associate I earn from qualifying purchases.