Dave The LifeKludger Featured On Channel 10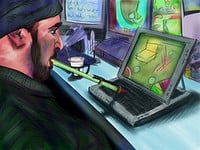 We've highlighted Dave Wallace, The LifeKludger, on GottaBeMoible.com before (here and here, among other links.) His story always fills me with optimism. Dave is a C4 Quadraplegic who can really turn heads the way he challenges conventional assumptions. Dave is now featured on Microsoft's On10, as a part of their Geek Stories series. You should really check this out.
Thanks to Hugo Ortega for the link.

As an Amazon Associate I earn from qualifying purchases.