Dawn of the $0 iPad Era is Here
Remember back when you actually had to pay several hundred dollars for a decent mobile phone? With the exception of the hottest devices, carriers practically give the things away to hook you into a long-term service contract. The same thing may happen to the iPad if carrier's follow Softbank's lead. In Japan, consumers can now get a free iPad when they sign on for a 25-month wireless contract.
The 16GB iPad WiFi + 3G is free as part of Softbank's 'iPad for everybody' promotion, but the'll sell you a 32GB or 64GB version if you're willing to pony up some more cash. The 3G service costs about $55 per month, which means there's still big bucks involved.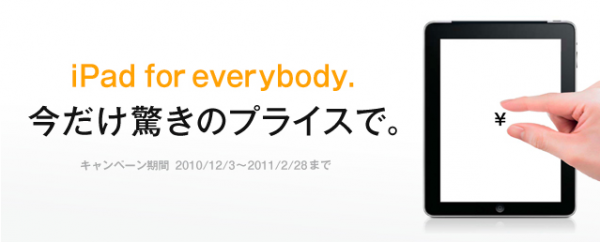 It's no secret that iPads have been the fastest selling gadget of all time. However, most people in the U.S. are opting for the WiFi only version as they're probably short on cash after forking over $499 to $699 for an iPad. Yes, a service contract has the cost of the iPad built into it somewhere, but people are much more likely to purchase a new device with and new service plans when they don't have to break the bank all at once.
What if Apple were to announce a severely reduced iPad pricing scheme next year, along with a service contract? Apple has a history of taking an ax to its products' prices once tehy've been around for awhile. The new MacBook Air is about half the cost of the original introduced three years ago. The same goes for the new Apple TV. And who can forget paying $599 for the original iPhone? Now you can buy an 8GB iPhone 3GS for $99 direct from Apple, or plop down $199 for the latest iPhone.
Buyers who do opt for the iPad WiFi + 3G are currently paying full rate for both the iPad and service. Sure, the service may be cheaper than some 3G alternatives, but the flexibility of not having a long-term contract means there's no subsidy. With the BlackBerry PlayBook, Samung Galaxy S Tab and others coming on strong in 2011 with subsidized pricing, Apple's going to have to drop its iPad 3G prices to compete.  The days of $829 3G-enabled iPads are going to be behind us pretty quickly.
Apple wants to get the iPad into as many hands as possible so it can sell more apps, music, movies and other digital goods. That can be tough to do when the entry price for a device that's far from a necessity is priced so high.  My prediction for 2011 is that Apple will introduce an entry-level iPad for $299 or less with a long-term mobile service contract. A carrier may subsidize part of the cost, or Apple might get really creative.
If Apple makes this move we can expect to see an explosion of Apple iPad sales. A while back, I wrote that everyone in San Francisco seems to have an iPad. If Apple chops the upfront cost of the iPad, we'll probably see similar things nationwide.