Day 0.5 with my Wacom Bamboo (Pen + Multi-Touch)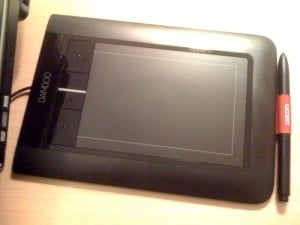 Update 2: Think I got my problem licked. Details below.
I'm not saying I have a problem, and I'm not saying that I don't, but it's possible – POSSIBLE – I am slightly too addicted to tablets. That was my wife's assessment when she saw my new Wacom Bamboo tablet with pen and touch input last night. Something about me already having four other tablets. I'm not really sure. I was opening up the Bamboo by that point and the rest of the world fell into a blur.
But I explained that what makes this one special is it offers both multi-touch and pen input, making it an ideal desktop companion and mouse replacement for my Windows 7 Tablet PC. Yes, this time I am actually adding a tablet to my tablet. Read on for my very initial impressions.
First, let me lay out my intentions with this seemingly redundant setup. While people tend to link my love of pen input with a disdain for keyboards, I'm actually very fond of full-sized keyboards (emphasis on "full-sized" complete with 10-key pad – no tiny phone or netbook 'boards for me). Standard trackpads and mice, on the other hand, infuriate me. I cannot avoid randomly tapping a center-positioned trackpad with my thumbs while typing, and mouse usage is steadily destroying my right index finger. Thus, I'm killing both those birds with one stone, a trackpad with a larger touch surface, stationed to the right, that supports the pen input I use away from the desk and offers the convenience of multi-touch control. Here's how it works.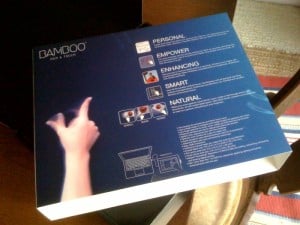 Multi-touch: Multi-touch input is limited to two-finger right click and four sets of two-finger gestures: pinch to zoom, two fingers together to scroll, two-finger twist to rotate, and two-finger swipes for back and forward. Scroll and swipe are proving most useful. I don't use zoom too often, but that might change. Rotate, however, doesn't seem to want to work. Oddly, I found that it works to flip through photos in Picasa photo viewer, but I can't get anything to rotate. Otherwise, touch works exactly like a standard trackpad.
Pen: I love the Bamboo pen. It has two programmable side buttons and an eraser. I've set the first side button for right-click, which is my familiar setup, and the second side button for scrolling. This allows me to scroll any window by dragging the pen through it, completely solving that weak point in pen input. Only problem is I'm going to forget I don't have that in my regular tablet pen and drag stuff accidentally. The pen is also quite a bit thicker than the usual Wacom penabled pen. Makes writing a bit difficult, but I'd do my heavy writing on-screen or with the keyboard anyway. Works smoothly with the pen-centric controls I use in Firefox.
Switching between pen and touch: The Bamboo turns off touch input when the pen is detected. The range of detection is tight enough that I can hold the pen under my hand against my palm and switch to touch input.
Tablet buttons: The Bamboo has four programmable buttons. I'm not sure how I want to set these up yet. The default is left-click, right-click, back and one other. Those work fine on the pad with touch or pen, so I'll need to come up with different uses for them. Any suggestions are welcome though I'm leaning toward commands, not launching apps or URLs (already got that covered).
Bugs: For the most part, the installation was perfect. No conflicts with my Tablet PC's built-in pen digitizer. Works in either landscape orientation (didn't test with portrait, though I don't use that at the desk). I did experience one problem with it losing pen input and advanced touch settings, like speed and acceleration, when the Windows security alert popped up as I was installing other software last night. Happened several times, requiring an unplug/replug of the tablet to restore. Seems to have fixed itself after a couple more reboots (for the other software), but I don't know what changed or if it'll stick. Update: Found a severe bug – after a reboot, the digitizer in my Tablet PC won't work if the Bamboo is not present. Had to uninstall the tablet drivers then recognize new hardware to reinstall. My dream of dual-tablet input may be dead. Update 2: After some dancing with uninstall and reinstall, the problem seems to be licked to an extent. When I reboot without the Bamboo plugged in, my Tablet PC works fine, but won't recognize the Bamboo if I plug it in later. When I reboot with the Bamboo plugged in, both function normally and the Bamboo can be plugged and unplugged without causing problems. Not perfect but adequately functional.
ritePen: Not a part of the Bamboo package, but I must mention one of my major reasons for wanting pen input in my desk setup is my extensive use of ritePen macros. Writing on a smaller side tablet is never going to be as neat and accurate as writing directly on the screen. But scribbling a letter or word and circling it doesn't require much neatness and accuracy. The Bamboo is working perfectly for me on this angle.
Cheap upgrade: I'm tagging this as a "cheap upgrade" because I went the eBay route and saved about $20 vs. regular retail. That's a 20% saving, which doesn't sound like much, but keep in mind, these are only a month old. Seller was a guy who obviously did not enjoy it as much as I am. Condition was brand new.
Again, these are my initial impressions after one night of setup and use, during which I was testing other software, but so far it's living up to my expectations. I'm sure it will continue to earn its spot on my desk as I use it. The only question in my mind is whether I'd be better off with the larger Bamboo Fun… Yep, no addiction problem here. :)