DBEST London Duo and Solo Bluetooth Speakers Review
The DBEST London Duo and Solo Bluetooth Speakers look more like a toys your kid would use than nice Bluetooth speakers for your smartphone, tablet or notebook, but they produce surprisingly good sound for such a small package and offer amazing convenience for portable sound. I like the interesting design and quality.
The rubberized case of the DBEST London Duo Mini Bluetooth Speakers has a rounded design on top with three rounded legs that hold the speakers and allow them to interlock, so you can connect the speakers to one another and store them in the included carrying case. The case isn't anything special, but I really like the speakers with just a couple of drawbacks.
The DBEST Solo speaker reminds me of a Christmas tree ornament. It even has a eye-let for connecting a string. You could hang it around your neck or suspend it from a hook in your cubicle while listening. The Solo is shorter than the Duo speakers with the same diameter.
Design and Build
Both speakers connect to a Bluetooth audio source or a wired stereo audio source using the included 3.5mm stereo cable. The cable has a USB connector on one end and two cords coming out of it. One includes a stereo jack so you can plug it into any audio source with a mini stereo jack (3.5mm) and the other either a micro-USB plug for the Duo or a mini-USB for the Solo. The USB charges the battery. The connection is solid and doesn't wiggle like some micro-USB plugs I've used. The cable has a velcro strap permanently attached so you can wrap the cables up for storage.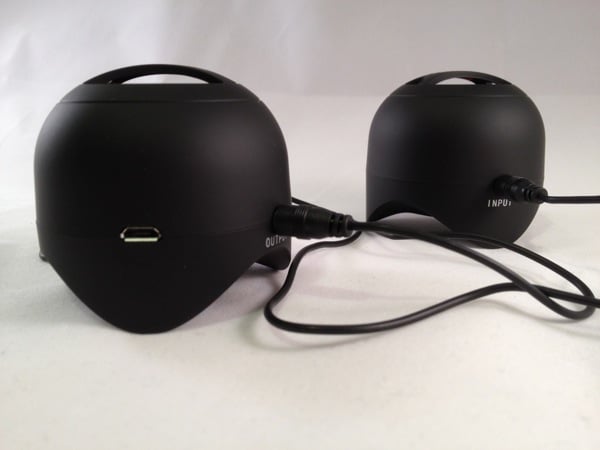 The Duo speakers feel like two chunks of solid black rubber so I doubt they will break easily. The Solo has the same feel but with red instead of black
The top of each speaker has what looks like a little bridge over the speaker diaphragm with the product name on it. That's the only thing I'd worry about breaking, but it would take some force because they're solid too. As I said above, even the micro-USB port is solid. The physical quality impressed me.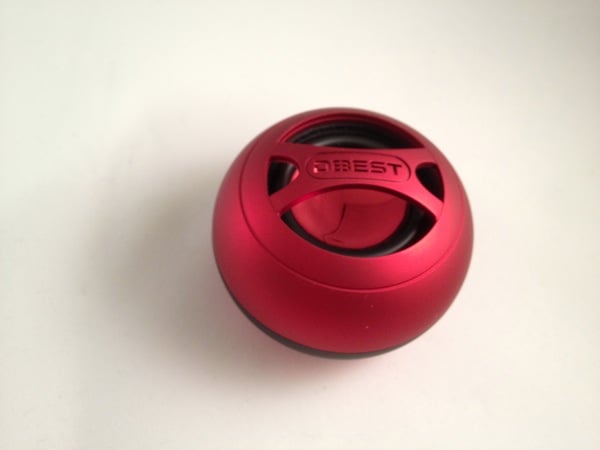 Sound Quality
You shouldn't expect great sound from such a small speaker, but you will get surprisingly good sound from each speaker. The cable connecting the Duo set spans about three feet giving you enough stereo separation if you sit closely to them, like you would with a laptop or your tablet while watching an action flick on Netflix.
The speakers don't sound tinny, like most mobile speakers. They don't have a lot of bass, so if you want heart pumping rhythm, look elsewhere. Despite that, you get good sound and volume considering. When I first plugged them into my laptop via the cable, I was pleasantly surprised. Even from across the room you could still hear them clearly. Lyrics were obvious and dialogue was easy to distinguish.
Our stereo receiver in our den starting failing last week. My son plugged the Duo into the TV and it gave us pretty good sound. I'm still getting a new receiver, but until them the DBEST speakers will suffice for a few days.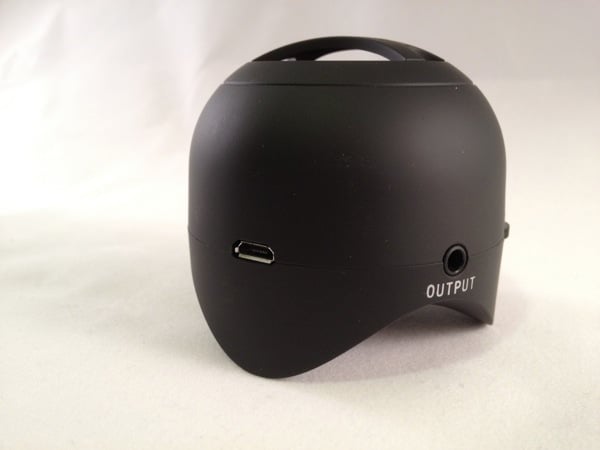 The Duo has a built-in volume dial (not available on the Solo). I cranked the volume up to full and didn't get much distortion until I turned my laptop sound to max also. Dialing the volume down just a bit removed the distortion while filling our 14×30 foot basement with uncomfortably loud music.
The volume drops off a lot on both the Duo and the Solo as you turn it down. At the 50% I had trouble hearing the streaming video I watched, so you will need to keep the sound above medium or higher to use them. The Duo gives louder sound than the Solo, obviously.
They worked well outdoors so long as you don't stray too far away. In our backyard I could hear them from 20 feet at full volume just fine.
Connecting via the stereo cable gives you slightly better audio, but the Bluetooth sound was still quite good, given the above limitations.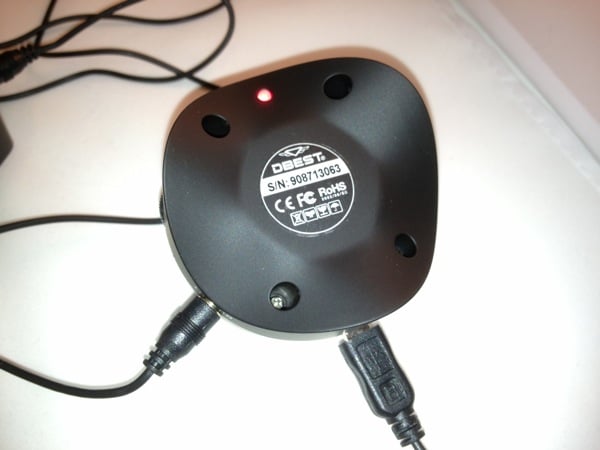 Wireless Connection
The Bluetooth connection, once established, was solid. Unfortunately getting that connection took some trial and error.
I first attempted to pair the Duo to my MacBook Pro and it worked, after a longer than usual wait and two attempts. I cycled my laptop's Bluetooth off and on before it finally connected. It still took more than a minute.
The speakers really had trouble paring with my son's Android phone. I had to turn off all Bluetooth in the area to get it to finally work. With my iPad I had to attempt to pair a few times before it worked. After cycling the Bluetooth on my iPad a couple of times it finally connected and from then on the connection was solid. From about 20 feet away it stayed connected and sounded very good.
Be patient and you'll be pleased once you finally get a connection. Be sure there's no interference, which may have caused my troubles. Other Bluetooth speakers I've used were easier to pair but didn't keep a connection as well as the DBEST did once they finally did pair.
Best Uses and Recommendation
If you only watch streaming videos like podcasts or YouTube, then the Solo will do nicely. If you want to listen to music, play games or watch movies, then pay the $10 extra to get the $69.99 Duo mini speakers.
The Duo provides good portable stereo sound in a small package. I really like how the two magnetically connect to one another. I wish they were easier to pair, but like how solid the Bluetooth pairing was after you finally connect.
If you're looking for a really small and simple set of battery-powered portable Bluetooth speakers that can also connect to any audio source via the stereo jacks, both of these speakers will offer good sound. The Duo works best when you want stereo sound for music, movies and gaming. The Solo will be more useful to those who listen mostly to spoken-word and aren't as concerned about stereo audio or if your primarily concerned with size, since the Duo will easily fit in your pocket.
You will be able to enjoy hours of use on the road and can fill a decent sized room with up to 20-30 people in it. If you stay close they will work for outdoor use as well.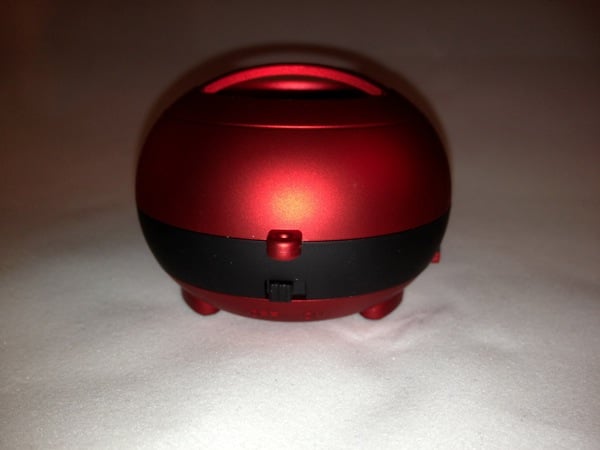 You can find out more about the DBEST London Duo Mini Bluetooth Speakers at the DBEST London website and you can buy them from Amazon for $69.99. Learn more about the DBEST London Solo Mini Bluetooth Speaker at their site or buy it from Amazon for $59.99.

As an Amazon Associate I earn from qualifying purchases.