DC Comics Single Issues Coming To Kindle, Nook, And iBooks
Singles issues of DC Comics are now available from Amazon, Barnes & Noble, and Apple according to a CNet report.
Today DC Comics brought its single issue comics to the Kindle Store, the Nook Book Store, and the iBookstore in an effort to expand its digital reach. The publisher's weekly comics will still appear in the Comixology and DC Comics apps, this move is just a way to bring the weekly issues to even more readers.
Previously DC Comics only offered graphic novels in the Kindle Store, Nook Book Store, and iBookstore.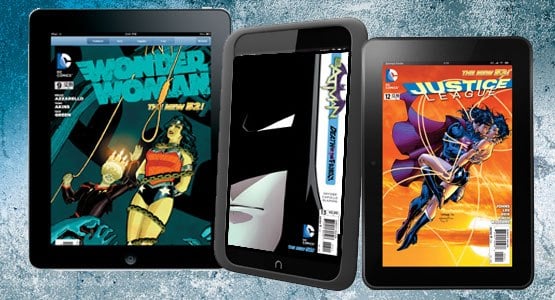 To start DC Comics will only bring new issues to the services, with archive material to come later. The publisher releases dozens of comics each month, so there should always be new comics for readers to buy even before DC Comics releases older issues on the services.
For now the books are only available on color devices, so users can't read the comics on e-ink Kindles or Nooks. DC Comics is looking into releasing the comic in black and white for e-ink devices. If it pans out users can read their comics on a Kindle or Nook when that's all they have available and come back to read it in color later.
Since 2011 digital sales of comics have increased by 197 percent, while print sales have also increased. For DC Comics a large part of that was thanks to its New 52 plan in September 2011 where it rebooted the entire DC universe and launched 52 new series in the new, unified universe. Since then the company has taken away a few titles and added more to keep the universe fresh and interesting.
The New 52 was also when DC Comics started releasing every issue in print and digital formats on the same day. Recently the publisher announced Justice League No. 12 was the fastest digital comic issue to reach 10,000 issues sold, though DC Comics won't say exactly how many digital issues it sold.

As an Amazon Associate I earn from qualifying purchases.