Deal: $100 iTunes Gift Card for $80 at Sam's Club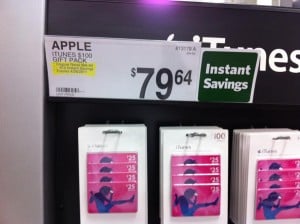 Sam's Club is offering a great deal on iTunes gift cards. From now through April 24th, you can pick up a $100 iTunes gift card for $79.64, a savings of just over $20. This deal is available in store and online for Sam's club members, and is a $15 discount off the standard Sam's Club pricing.
The iTunes gift card deal is for a 4 pack of $25 gift cards, which is a nice way to take care of a bunch of upcoming graduation gifts, or just to get stocked up on iTunes store credit at a discount.
The iTunes gift cards can be used for music, movies, TV shows, books, apps and in app purchases on PC and Mac as well as on the iPhone, iPad, iPad 2 and iPod Touch devices.
To take advantage of this deal, you need to be a Sam's Club member. Sam's club membership is $40 a year for individuals and $35 for businesses. If you make use of the membership, it will pay for itself rather quickly, but make sure that it is something you will use, before buying one to take advantage of this deal.