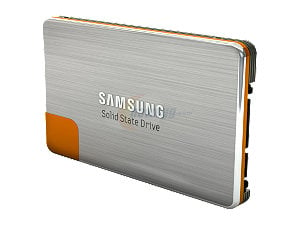 NewEgg has a 64GB Samsung SSD on sale for just $99, a $50 discount off the normal price. If you're looking to speed up your mobile system, an SSD is your best bet. The trade off is of course a relatively low capacity, but 64GB is sufficient for a lot of users who don't need to haul around multimedia libraries.
The 64GB Samsung 470 Series SSD has an aluminum 2.5″ enclosure, which means it'll fit into most tablets and laptops. It's rated to read at up to 250 MB/s and write at up to 170 MB/s, which is much faster than the speediest hard drives. This SSD is rated to go a million hours before failure and comes with a three-year warranty.
As with other SSDs, the Samsung 470 Series SSD will stand up to vibration, shock, altitude and other hazards better than any hard drive.

As an Amazon Associate I earn from qualifying purchases.