Deal Gives MacBook Air Users Up To $650 to Switch to Surface Pro 3
Earlier this morning Microsoft debuted a new advertisement that compares its Surface Pro 3 2-in-1 to Apple's MacBook Air laptop. In that ad, the Surface Pro 3 wins because of its powerful processor, touch screen and included pen input. Now it seems Microsoft is ready to drive that message home, offering owners of the MacBook Air as much as $650 in store credit when they upgrade to a Surface Pro 3.
Microsoft began sending out links for the MacBook Air trade-in deal earlier this morning. Though the company seems more aggressive about pushing the deal, it almost completely mirrors the trade-in deal that it offered to MacBook users just a few weeks ago. Just like last time the trade-in deal's details don't go into which versions of the MacBook Air will get users the most trade-in value, choosing instead to note that users who are willing to part with "select MacBook Air models" will get that full $650 in-store credit.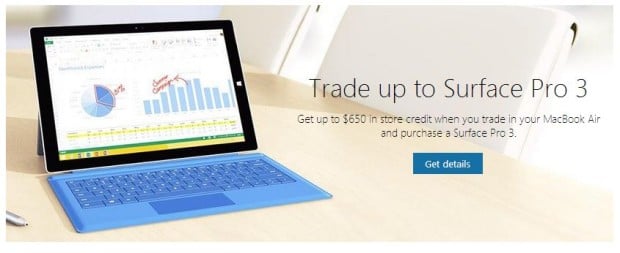 Presumably, users will need the latest version of the MacBook Air to get the full credit, but with the Surface Pro 3 starting at just $799 this deal does represent one of the few times a trade-in deal might actually be worth it. Users who are able to max out the deal are looking at $150 for the cost of an entry-level Surface Pro 3.
Microsoft's Surface Pro 3 isn't a tablet or a laptop. Really, it's both. Like other tablets, the Surface Pro 3 includes a touch screen that allows users to interact with the device just like they would with their smartphone or eBook reader. On the other hand, the entire Surface Pro 3 line uses Intel laptop processors. This allows them to run a full version of Microsoft's Windows 8.1 operating system. When a Windows Store app can't get the job done, users can dive back into the Desktop and use the millions of applications already made for Windows.
Read: Microsoft Moves on to Macbook Air in latest Dissing Ad
In some ways, Microsoft's decision to aggressively market the Surface Pro 3 as a MacBook air alternative might seem strange. Really though, it's not. Comments made by former Microsoft CEO Steve Ballmer made it clear that the Surface line of tablets and 2-in-1s is less about competing with its hardware makers and more about shoring up the Windows ecosystem in the high-end device space.
Today, if a professional or a creative type needs a laptop to get work done, the MacBook Air is one of the main computers they consider. The MacBook Air was the first mainstream computer to drop the disc drive and a removable battery. Apple did this so that it could make the MacBook Air as thin and light as possible. Many of the device makers that create for Windows have used the MacBook Air as inspiration.
If you're thinking about taking advantage of the MacBook Air trade-in deal at the Microsoft Store there are a couple of things to consider. First, Microsoft isn't making it clear how much users will receive for each MacBook Air model. As such, it's entirely possible that you won't receive anything close to the $650 mark the company is advertising. MacBook Air's turned in will need to power on. Also, it's not a bad idea to backup any data you'd like to keep. Microsoft won't be transferring users content as a part of the deal.
Finally, Microsoft says that its retail stores are participating in the deal. Unfortunately, its website isn't, meaning you'll have to head into a Microsoft Store to trade-in your MacBook Air toward a Surface Pro 3.
To be clear, each Surface Pro 3 device comes with a power charger and a Surface Pro Pen. Users can connect a keyboard they already own or purchase a Surface Pro 3 Cover with movable keys. That cover costs $129 extra. The trade-in deal ends on November 2nd.

As an Amazon Associate I earn from qualifying purchases.