Dear Google: Fix the Slowness of GMail Now!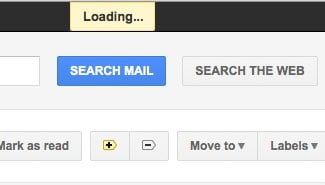 GMail has become the go to web/cloud email service for so many. In some ways you can call it Google's flagship product. So, why then is it constantly plagued with a slowness that makes it seem like Google just doesn't care anymore?
It doesn't happen all the time, but when things slow down, I feel like I'm back in the days of x286 machines waiting for a program to load off a floppy drive. And of course it only happens when you need to switch between your InBox and Labels or do something quickly. Quite honestly, I find the experience becoming so bad, that I'm looking at alternatives. The screen snap that accompanies this post is telling enough, but the load time for switching between the Inbox and a label was long enough that it allowed me to open Skitch and then take the screen snap, and then load the picture into this post. I think that's a bit too long.
I know Google is dealing with many issues, but this one needs to be a top priority given how many folks rely on GMail. So, Google, let's get cracking shall we?

This article may contain affiliate links. Click here for more details.