Decorated Gadgets: My Tablet PCs, iPhone, and more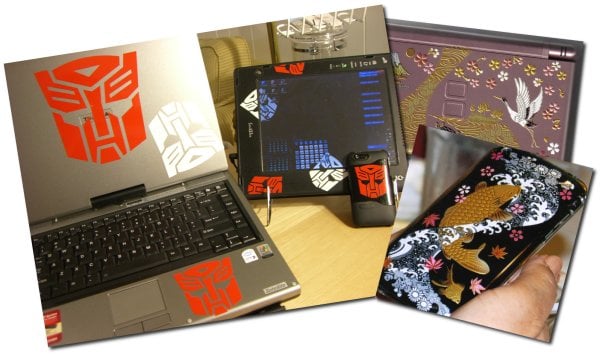 My mother sent me photos of her new phone, decked out with stickers from HOTSUMA Online Shop, a Japanese retailer of lacquer-style decals. The decals are cut so as to appear painted straight on to the surface. She also decorated her Nintendo DS (which she insists is my sister's; top right), and my sister got in on the act with decals on her iPhone (bottom right), which she then "sealed" on with a clear case. That one looks really great. Details on my Tablet PC and iPhone decals, plus a Flickr slideshow gallery after the jump.
Their decals are a bit too artsy for my taste, but it  motivated me to finally get around to putting Autobot symbol decals on my current Tablet PC and iPhone, as  I had done on my old tablet.  On my old one, I  extended the decals  over to the screen in the desktop wallpaper, a trick I can't pull off on my current tablet. The decals are high-quality, die cut  vinyl designed to  withstand weathering. Got them from an eBay retailer called Easy Street Discount. I also put one on the back of my iPhone case and complimented it with a symbol on the wallpaper. Anyone got decal secrets to share?

This article may contain affiliate links. Click here for more details.