Dell and Toshiba Tablet PC News and Pics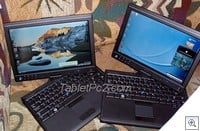 Toshiba and Dell both ratcheted up the pace of Tablet PC news with their respective releases of new Tablet PCs this week. I'm sure we are going to be hearing lots more about both in the days to come. The Dell news was expected and the Toshiba news was quite a surprise. I know we're anxious to be getting our hands on review units of the both so we can bring you GBM InkShows of the newest Tablet PCs on the market. So far from what I've seen the coverage has been pretty enthusiastic about both entries. There is also a theme emerging that Dell has priced the new XT too high. That theme is especially prominent on the Direct2Dell blog in the comments. It will be interesting to see how that shakes out, given Dell's statments that consumers aren't really their target market.
In the meantime, Lora Heiny has a nice round up of the early coverage, so if you just can't wait to read more you might want to check out her list of links here.
And Linda Epstein has hands on pictures of the Dell XT on TabletPC2.com. When you take a look at the pictures, notice the size of the power adapter. That's small.

This article may contain affiliate links. Click here for more details.