Dell Inspiron 15 7558 Review
It's trendy for users to buy 11-inch and 13-inch notebooks. It likely stems from our obsession in doing less with more. We want a notebook that will do everything we need it to, but we don't want to lug a large bag to the local coffee shop. What's more, we want something durable, but not so rugged that it's heavy or bulky.
I say "we" because until a few weeks ago I counted myself among those weight and looks-obsessed shoppers. I didn't care what I had to sacrifice to meet that threshold either. Weeks with the Dell Inspiron 15 7558 have turned me around though. The mid-range notebook starts at $549.99 online and has me convinced of two things. First, it's a terrific PC for those who need a large display and robust processor. Second, more people – even the weight conscious buyers – should look into this new class of bigger Windows 2-in-1s.
Dell Inspiron 15 7558 Review – Design
With the XPS 13 Dell introduced a new design language that sandwiches durable materials with a contrasting keyboard deck. The Inspiron 15 7558 picks up this trend and runs with it. It's keyboard deck and main body are metal. The display bezel and bottom panel are made of plastic that has a soft-touch.
The two materials play off each other in ways that I didn't immediately notice. When using the Inspiron 15 7558 as a notebook the metal kept my forearms cool. The material also meant that my wrists could slide smoothly as my fingers moved frantically in search of keys. This is a stark contrast to the keyboard decks of older good-looking, but less ideal keyboard decks from other Dell notebooks. The original Dell XPS 13 used a matte surface that slowed wrist movement and wore down over time.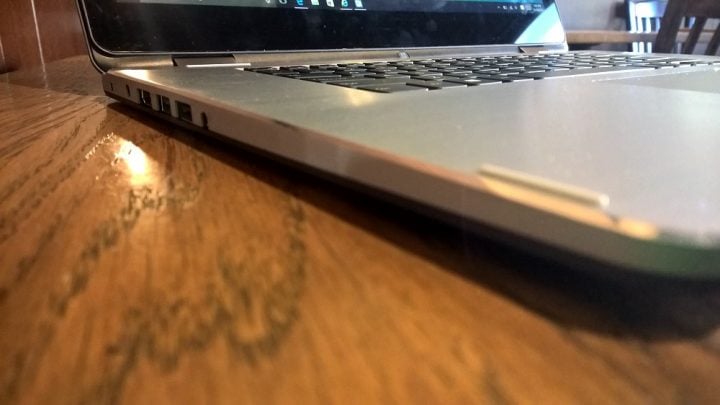 These materials make sense in the notebooks other modes too. The soft-touch coating on the display and back panel means that the notebook doesn't slip in Tent Mode and Tablet Mode. When you pick up the Inspiron 15 7558 you don't feel like you're about to drop it because of this coating.
Black island-style keys sit in the middle of the Dell Inspiron 15 7558's shiny metal keyboard deck just above a plastic trackpad that supports gestures. Muted metal hinges hold up the Inspiron 15 7558's spacious 15-inch display and front-facing camera.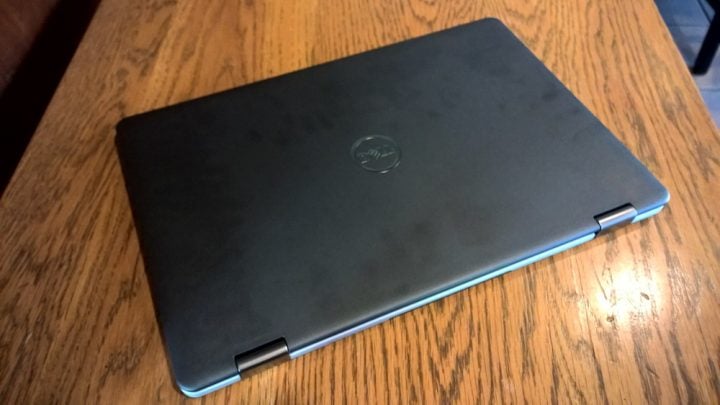 On the left side of the Inspiron 15 7558 is a lock slot, an HDMI port, two USB ports and a headset jack. There's another USB port, media card reader, volume buttons and a power button on the left edge. There are no ports on the leading edge of the Inspiron 15 7558. It's another smart move for Dell's designers as putting anything on these edges would have ruined the device's Tablet and Stand modes.
The Dell Inspiron 15 stands just 0.78-inches tall but weighs 4.8 pounds. Because it's so thin, you feel like you're carrying around a heavy lunch tray. Things could definitely be worse. Machines in this class sometimes feel like thick, heavy bricks. At least with this laptop, buyers end up with room in their bag for things besides this machine.
Dell Inspiron 15 7558 Review – Internals
The centerpiece of the Dell Inspiron 15 7558 is a 1080P 15.6-inch LED display. Colors on it pop and it's very, very bright. This screen highlights Dell's commitment to making this machine a killer notebook and tablet. Buyers will appreciate its crisp text and bright backlighting in every situation. It's terrific for renting movies and watching video through Microsoft's Movies & TV app for Windows 10. The built-in stereo speakers are very loud and even have bass. Users will also appreciate the extra screen real-restate when trying to run any Windows Store apps and Desktop programs side-by-side.
All pre-made configurations of the Inspiron 15 on Dell's website include at least 500GB of storage, 4GB of RAM and Intel Pentium Processor. GottaBeMobile's review unit came with 8GB of RAM, a 256GB SSD and an Intel Core i5 Processor. For an identical  machine, online shoppers will need to spend $899.99.
The Inspiron 15 handles Microsoft's Windows 10 operating system and just about any app you can load it with pretty well. During my time with the machine I edited audio, produced a video and played both Sim City and Star Trek Online flawlessly. Versions of the machine with less robust processors should still handle Windows 10, web browsing and productivity apps just fine.
The Dell Inspiron 15 has three USB ports, but only two of them use the latest USB 3.0 standard for fast picture and media transfers. The one on the right edge of the device is USB 2.0. Only one of the USB 3.0 ports has Dell's PowerShare technology. PowerShare lets users charge their other devices even when the Dell Inspiron 15 isn't powered on. Really, it's like carrying around a portable back up battery without making a separate purchase.
Dell Inspiron 15 7558 Review – Experience
The Dell Inspiron 15 7558 is a very nice notebook. No, it's not thin and I absolutely noticed it in my bag. I just didn't care that much; the display is worth the sacrifice. Every key on its island style keyboard is springy. Even better, they have backlighting. There's enough travel to make every key press feel substantial. Dell is on a winning streak with its keyboards and trackpads lately.
In Tablet Mode the Inspiron 15 7558's power button and volume rocker sit in the top right, perfect for using the machine in landscape. The device's speakers pour sound out of the top edge in Tablet Mode too, which is a rarity. A physical Windows button sits just below the 15-inch display. It's a bit small in my opinion. The exhaust fan does point directly at the user in landscape, but the fan hardly ever comes on, making that a non-issue.
Windows 2-in-1s from Lenovo lower their keys in Tablet Mode so that there's no risk of damaging them. Dell does take that issue head-on in its own way. It sunk the keyboard in the Inspiron 15 7558 enough that the top of the keys are flush with the keyboard deck. Theoretically, snagging the keys won't be issue.
Dell is to be commended on its Windows 10 experience too. The hardware maker doesn't pre-load the Inspiron 15 7558 with tons of software extras. Also, it added software support for Windows 10's Continuum switching. When you fold the screen back the system automatically goes into Tablet Mode. Flipping the keyboard back in front automatically turns Tablet Mode off. The device's metal hinges are tight enough that banging on the keyboard deck barely wobbles the display.
Dell Inspiron 15 7558 Review – Should You Buy?
The Inspiron 15 7558 is absolutely another winner from Dell. The Dell Inspiron 15 7558 navigates the dicey waters of being a Windows 2-in-1so well that it's convinced me to consider it as my next work PC and media consumption device.
The Inspiron 15 7558 is a terrific machine for anyone that knows they want lots of screen real estate. If you're in the market for a new notebook you should absolutely consider it.