Dell Inspiron Duo Reviewed
Joanna Stern, also known as the Queen of Netbooks, reviewed the Inspiron Mini Duo over at Engadget.Unfortunately, the device doesn't look like it's going to live up to the hype and excitement we first experienced when we first saw it at IDF 2010. The Inspiron Duo definitely has that 'gotta have it' geek appeal at first glance, but a closer look may have you thinking twice before spending $549 on the device. This netbook's flipping feature comes at a premium that most consumers won't be willing to pay.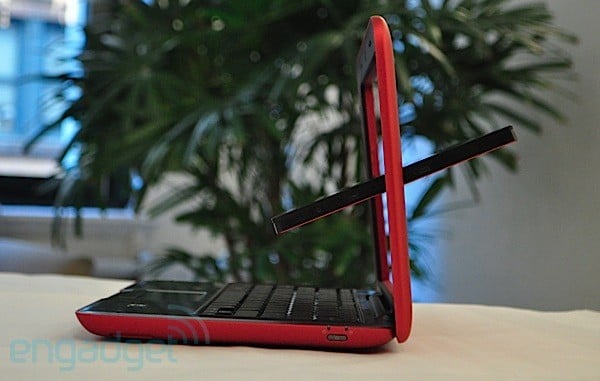 As you can see in the video, the Duo's glossy screen has very poor viewing angles. We all know how frustrating glossy touchscreens can be, even when they're of otherwise good quality. Like the iPad, the Dell Inspiron Duo is going to be a gloss monster, attracting fingerprints for an added measure of viewing displeasure.

On the bright side, the Dell Inspiron Duo  plays back 1080p video quite well thanks to Broadcom HD accllerator and dual-core Intel Atom processor.
The Dell Inspiron Duo relies on Windows 7, but there is a touch layer called Dell Stage. The app launcher is pretty basic and pretty frustrating to use. In the video apps take 15-20 seconds to launch. That's painfully slow. The multimedia experience also looks very slow. Scrolling through photo libraries is not smooth and Joanna questions why you'd even bother using Stage.
The Dell Inspiron Duo may have been a very compelling device a year ago, when gadgets were a bit more expensive and before Apple, Dell and Samsung released other tablets in the same general price range. Other gadgets, such as HDTVs have also come down in price significantly, competing for consumers' dollars that may otherwise be spent on secondary PCs, such as the Duo.
The Dell Inspiron Duo is available for order now over at Dell.com for $549.