Dell Inspiron Mini 12 Netbook Now Available with Limited Options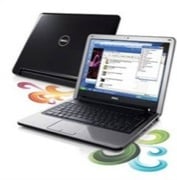 I'm not sure if we'll see more options here in the future, but as of now the Dell Inspiron Min 12 Netbook is now available for ordering with only limited options. For starters the 1GB of RAM is not upgradeable and it looks like Vista Home Basic is the only OS you can choose from. That won't go over well I'm predicting. Dell has three options to choose from and the prices certainly aren't on the low end (or even the middle) of the Netbook price pack.
For $549 you get an Atom processor at 1.33GHz and a 40GB HD with a three cell battery.
For $599 you get an Atom processor at 1.66GHz and a 60GB HD with a six cell battery.
For $649 you get all of the second option and an 80GB HD.
This will be interesting to watch. Delivery is scheduled for early December.
Via CrunchGear
UPDATE: from jayatdell. Looks like XP and Ubuntu options will be availalbe in December.

As an Amazon Associate I earn from qualifying purchases.