Dell Laptop Bursts Into Flames At Conference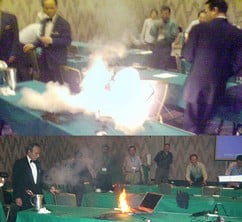 Yikes! We all know about heat issues associated with mobile computers of all types including Tablet PCs. Apple has even stopped calling laptops laptops after scalding a few laps along the way with some of their newer machines. But this raises the temperature on that discussion. Apparently a Dell Laptop burst into flames at a conference in Japan. (If this had been a Tablet PC we'd never hear the end of it.)
Interesting that some of the commentary is already saying that it is only a matter of time before this happens on a plane. Watch for that to turn into an unfortunate discusssion of banning laptops on a plane. In the meantime, I understand that the new Windows Mobile and Tailored PC Division is looking into pants equipped with fire retardant.
Via Gizmodo and The Inquirer

As an Amazon Associate I earn from qualifying purchases.