Dell Latitude ST Could Arrive First of November
Just received a tip from Giacomo at il Tablet PC Italico that Dell will launch a new Windows 7 slate next month, dubbed the Latitude ST. He's not at liberty to share specs, but previous leaks have us covered on that. Maybe.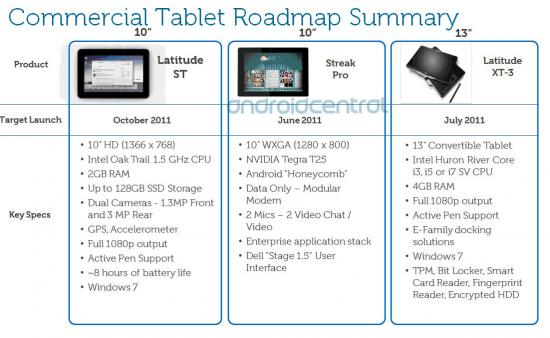 The Latitude ST was first exposed to the world in April in a leaked roadmap from Android Central. That report tagged it as yet another Windows 7 slate running Intel Oak Trail, a processor that leaves me unimpressed. Additional specs included 10″ 1366 x 768 widescreen display, 2GB of RAM, up to 128GB of storage, 3MP rear and 1.3MP front cameras, GPS, accelerometer, 1080p video-out, active pen input, and 8-hour battery life. Pretty much the same specs as every other Oak Trail-based Windows 7 slate released months ago. Not impressive.
Ah, but a second leak in July paints a whole other picture. At a single page blog called "DELL PEJU INSIDER" ("Peju" being the product code name), the ST is shown to sport a much beefier Intel Core i5 processor with 4GB of RAM, a 5MP rear camera, and 1920 x 1080 display with Corning Gorilla Glass protection. Most of the other specs appear unchanged. It also mentions the wireless connectivity, including Wi-Fi b/g, Bluetooth, 3G and 4G, and confirms the pen digitizer is N-Trig (a given for the 10″ screen size). Interestingly, battery life is claimed at 6-8 hours, putting it at the same level as the previous leak, despite running a leaner processor. Really hoping this is the rumor that proves true. Guess we'll learn the truth next month.

As an Amazon Associate I earn from qualifying purchases.