Dell Latitude XT Drivers Held Hostage: Day 7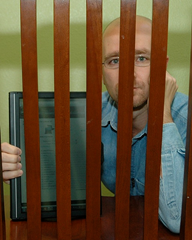 Well, the saga continues and at least today we have some new information. Although I'm not sure this is going to make any Dell Latitude XT Tablet PC users happy.
From his undisclosed prison cell Rob Bushway forwarded me this series of tweets from RichardatDell. From the looks of things, Latitude XT owners are now working with "legacy hardware." Not good, given the context that the Latitude XT was the first multi-touch Tablet PC. But, I imagine that there are all sorts of issues not only with Dell, but with N-Trig as well.
UPDATE: RichardatDell responded in the comments with this:
we appreciate the feedback and have specific points you raised with teams at Dell who are working hard on various updates. The nTrig touchscreen is a matter we are aware of and one where the firmware has to be updated and then install new driver. Our teams are working on XT2 matters and will finish up the XT drivers shortly.