Dell Latitude XT Touch Drivers Held Hostage: Day 4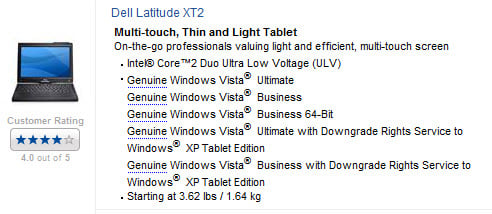 Rob Bushway keeps plugging away at Dell and the lack of drivers for the Dell Latitude XT now that Windows 7 is released. He's been twittering about it each day since the big release day on Thursday. So, I'd thought I'd help our founder out here, and we'll run a "Held Hostage" post each day until Dell releases the drivers or says it won't. What's the big deal here? Well, remember this was the first multi-touch Tablet PC released and Dell made a lot of noise. They also charged a lot for these machines. The base model still lists for $2315. The new Latitude XT2 lists for $2350 and of course comes with Windows 7 installed and new drivers. Intriguingly, there is no option listed for Windows 7 on the original XT.
Merely speculation here, but I think Dell has moved this to the back burner.