Dell Latitude XT2 XFR Unveiled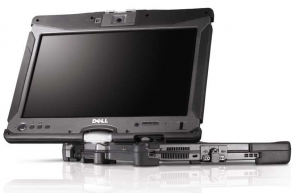 Dell officially announced the Latitude XT2 XFR tablet today. The convertible tablet starts at$3,599 and is designed for emergency responders, military agencies and others who operate in tough environments.  According to Dell, it's the thinnest rugged convertible tablet, measuring 1.5″ thick.  The XT2 XFR weighs in at 5.4 pounds with a standard four-cell battery.
The XT2 XFR comes with a 12.1″ LED capacitive multi-touch display. Dell is offering a resistive touch version of the display.  No matter which touch technology you prefer, the 12.1″ display is viewable outdoors and is impact resistant.
The XT2 XFR can be personalized with accessories through an optional expansion sliver and hot swappable modules. The expansion sliver includes a camera, light serial port and Ethernet port. There will be optional GPS, webcam and other modules announced in the coming weeks that don't require the expansion sliver. A rugged docking stations and vehicle mounting solutions are coming soon as well.
Here's a brief video from Dell about the Latitude XT2 XFR.