Dell Latitude XT3 Tablet PC Page Live at Dell.com
Dell's published its Latitude XT3 Tablet PC landing page, which likely means the launch of the computer is imminent.
While we have seen press releases, products and FCC applications, this is the first time we've seen a full Latitude XT3 product page on Dell.com.
The Latitude XT3 landing page has just about everything you'd want to know about Dell's new tablet…except for pricing. The shopping cart functionality of course isn't enabled yet.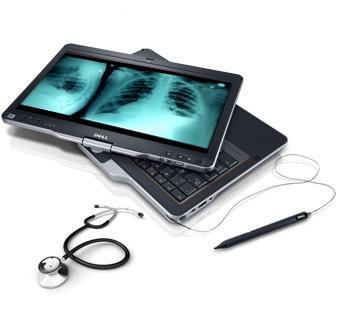 The Dell Latitude XT3 was announced all the way back in February of this year. Since then, Dell has continued to sell the Latitude XT2, a 12″ Tablet PC. The XT3 is a convertible Tablet PC with a 13.3″ display. In recent years, the larger PC manufacturers have shunned 13″ and larger Tablet PCs in favor of more mobile offerings.
We got a chance to check out the Latitude XT3 in the flesh at a press event in San Francisco back in February, but haven't heard about it since.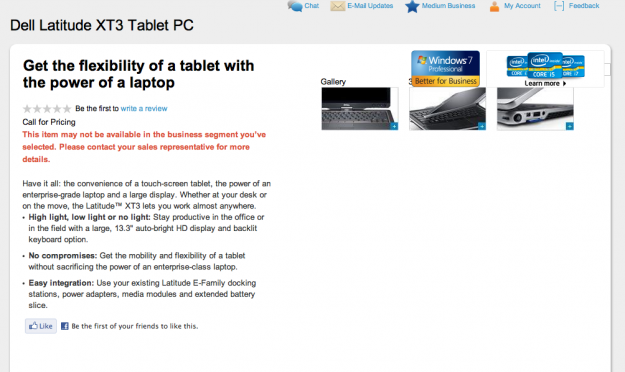 The Dell Latitude XT3 product page is just like the ones found for the rest of Dell's business notebooks. There's a  general sales pitch at the top of the page and a blank space where the pricing and shopping cart info will go.
Below the sales pitch are a few tabs with detailed product info. The first tab is an overview of the XT3 Tablet PC. The second tab displays detailed warranty and service options. The third tab is where XT3 customer ratings and reviews will go.
Dell published another version of the XT3 on its Canadian shopping site. This version has a fourth tab with detailed specifications. That page is still missing information on processor options and a few other items that we typically see on Dell's product pages. We do know that it will be using Intel Sandy Bridge processors, thanks to the inclusion of the Intel HD 3000 graphics shown on Dell Canada. We can hope that it is using the most recent Intel chips, like those found in the MacBook Air, which deliver power without a huge dip in battery life. It is clear that we will see Intel Core i3, i5 and i7 options, which means there will be some range in pricing.
One new detail which trickled in is the inclusion of ExpressCharge battery technology. This will allow you to recharge to 80% in one hour. For professional workers, this means the ability to get through even a long day of work as long as you plan to stop and eat at some point.
Dell has not linked to the Latitude XT3 product pages from anywhere else on its sites yet and the pages are so fresh that Google doesn't even know about them yet.
Thanks to the anonymous Gotta Be Mobile reader who sent this in!
Dell Latitude XT3 Gallery