Dell Launching Windows 7-Powered Peju Tablet in October?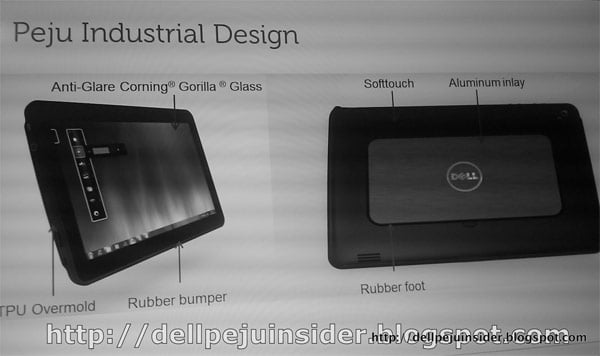 In addition to recently releasing Android-based tablets under its Streak brand, Dell may make a return to the Windows tablet arena with the release of a slate product in October. Codenamed the Dell Peju, Dell's slate tablet will come with an anti-glare Gorilla Glass touchscreen that will dominate the front surface, a rubber bumper along with a soft-touch finish on the back to help users grip the large 10-inch slate, along with aluminum.
The device will be a higher-end tablet as it will feature Intel's Core i5 processor, a 10.1-inch 1920 X 1080 display, 3G/4G/WiFi connectivity, and a battery that will last for 6-8 hours on a single charge. The tablet will also feature a front-facing camera for video calls along with a rear 5-megapixel camera. As this is a Windows tablet, it will feature USB ports, mini VGA port, and HDMI. The tablet is expected to run Windows 7 Professional, but it may also be upgrade-able to Windows 8 whenever that OS is ready for release by Microsoft.
Dell will also release a special docking station for the Peju tablet as well, which would add additional ports.
Via: Engadget

This article may contain affiliate links. Click here for more details.